Charlie's Angels (2019) Locations
Charlie's Angels is a 2019 American action, adventure, comedy film written and directed by Elizabeth Banks from a story by Evan Spiliotopoulos and David Auburn. It is based on "Charlie's Angels" TV series by Ivan Goff and Ben Roberts. It stars Kristen Stewart, Naomi Scott, Ella Balinska, Elizabeth Banks, Patrick Stewart, and Djimon Hounsou. The film is the third installment of the Charlie's Angels film series, released on November 15, 2019, in the US. Charlie's Angels was filmed at the Elbphilharmonie in Hamburg, Germany. Filming also took place at the Spice Bazaar, Veliefendi Race Course as well as in Sultanahmet in Istanbul, Turkey.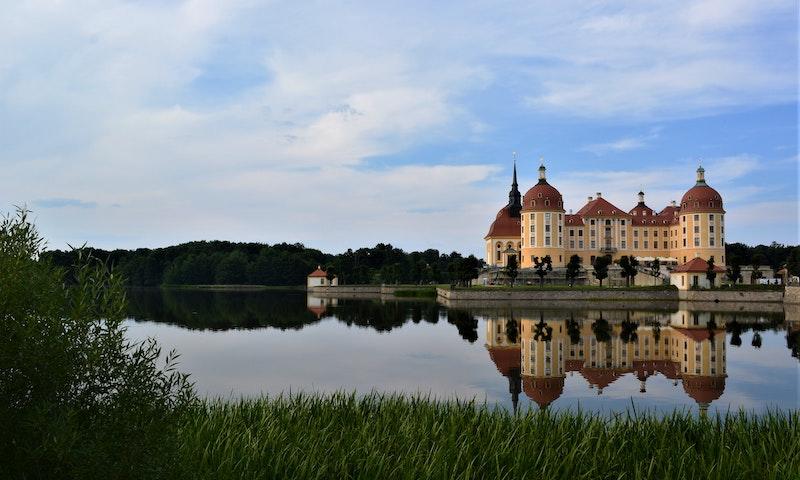 Moritzburg Castle. Photo by Peter Steiner on Unsplash.
Where was Charlie's Angels (2019) Filmed?
Charlie's Angels (2019) was filmed in Berlin, Elbphilharmonie, Hamburg, Istanbul, Moritzburg Castle, Studio Babelsberg and Veliefendi Hippodrome.
The complete list of the locations with latitude and longitude coordinates are listed below in the table.
Charlie's Angels (2019) Locations Map
Charlie's Angels (2019) Locations Table
| Location Name | Latitude | Longitude |
| --- | --- | --- |
| Berlin | 52.510227 | 13.363316 |
| Elbphilharmonie | 53.541309 | 9.983441 |
| Hamburg | 53.537407 | 9.980186 |
| Istanbul | 41.015137 | 28.979530 |
| Moritzburg Castle | 51.167488 | 13.678720 |
| Studio Babelsberg | 52.386925 | 13.119341 |
| Veliefendi Hippodrome | 40.986607 | 28.885691 |
Related Movies