Medici Locations
Medici (or I Medici) is an Italian-British historical biographical political drama television series created by Frank Spotnitz and Nicholas Meyer. Starring Daniel Sharman, Alessandra Mastronardi, Synnove Karlsen, Sebastian De Souza, Pietro Ragusa, Annabel Scholey, David Brandon, Sarah Parish, and Aurora Ruffino, it follows the Medici family in Florence in the early 15th century. It was released from 18 October 2016 to 11 December 2019, and ran for 3 seasons/24 episodes. Medici was shot in different cities of Italy such as Florence, Rome, Pistoia, Viterbo, and Siena. Filming locations included Basilica di San Lorenzo, Palazzo Piccolomini, Cattedrale di Santa Maria del Fiore, and Battistero di San Giovanni.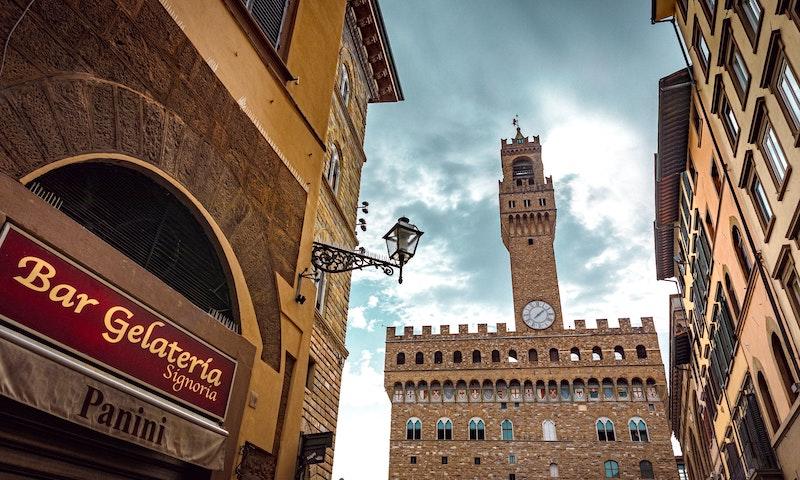 Palazzo Vecchio. Photo by Bianca Ackermann on Unsplash.
Where was Medici Filmed?
Medici was filmed in Bagno Vignoni, Bargello, Basilica di San Lorenzo, Battistero di San Giovanni, Bracciano, Caprarola, Cattedrale di Santa Maria del Fiore, Florence, Montepulciano, Palazzo Piccolomini, Pienza, Palazzo Vecchio, Pienza, Pistoia, Rome, San Quirico d'Orcia, Tivoli, Villa Adriana, Villa d'Este and Viterbo.
The complete list of the locations with latitude and longitude coordinates are listed below in the table.
Medici Locations Map
Medici Locations Table
| Location Name | Latitude | Longitude |
| --- | --- | --- |
| Bagno Vignoni | 43.028008 | 11.617968 |
| Bargello | 43.770363 | 11.257941 |
| Basilica di San Lorenzo | 43.774982 | 11.253775 |
| Battistero di San Giovanni | 43.773102 | 11.254956 |
| Bracciano | 42.102531 | 12.165524 |
| Caprarola | 42.323036 | 12.235503 |
| Cattedrale di Santa Maria del Fiore | 43.773132 | 11.255921 |
| Florence | 43.788380 | 11.230356 |
| Montepulciano | 43.098515 | 11.786662 |
| Palazzo Piccolomini, Pienza | 43.076595 | 11.678525 |
| Palazzo Vecchio | 43.769272 | 11.256133 |
| Pienza | 43.078842 | 11.675365 |
| Pistoia | 43.931328 | 10.906230 |
| Rome | 41.907448 | 12.479346 |
| San Quirico d'Orcia | 43.058163 | 11.604157 |
| Tivoli | 41.961040 | 12.795554 |
| Villa Adriana | 41.942780 | 12.774313 |
| Villa d'Este | 41.963299 | 12.795727 |
| Viterbo | 42.421211 | 12.105608 |
Related TV Series