Angels & Demons Locations
Angels & Demons is an American mystery thriller film directed by Ron Howard, produced by Brian Grazer, Ron Howard, and John Calley, written by Akiva Goldsman and David Koepp, based on Dan Brown's novel of the same name. Starring Tom Hanks, Ewan McGregor, Ayelet Zurer, Stellan Skarsgård, Pierfrancesco Favino, Nikolaj Lie Kaas, Armin Mueller-Stahl, and Thure Lindhardt, the film was released on May 4, 2009 (Rome), on May 15, 2009 (United States) and grossed $485 million worldwide. Filming took place in Vatican City, Rome, Lazio, Campania, Los Angeles, and Massachusetts.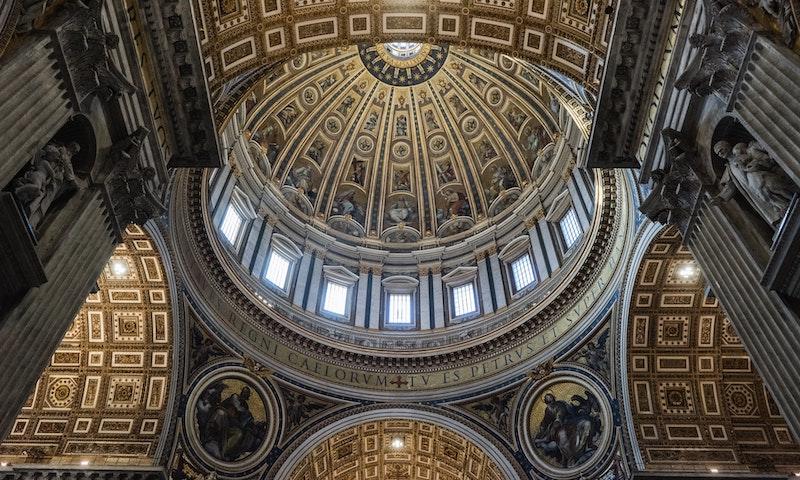 Basilica di San Pietro. Photo by Ehud Neuhaus on Unsplash.
Where was Angels & Demons Filmed?
Angels & Demons was filmed in Basilica di San Pietro, Biblioteca Angelica, Harvard University, Hollywood Park Race Track (closed), Long Beach, Pantheon, Piazza del Popolo, Piazza Navona, Reggia di Caserta, Rome, Royce Hall, Sony Pictures Entertainment, UCLA, Universal Studios Hollywood and Vatican City.
The complete list of the locations with latitude and longitude coordinates are listed below in the table.
Angels & Demons Locations Map
Angels & Demons Locations Table
| Location Name | Latitude | Longitude |
| --- | --- | --- |
| Basilica di San Pietro | 41.902283 | 12.453417 |
| Biblioteca Angelica | 41.900562 | 12.474489 |
| Harvard University | 42.376938 | -71.116760 |
| Hollywood Park Race Track (closed) | 33.950294 | -118.338036 |
| Long Beach | 33.775070 | -118.196815 |
| Pantheon | 41.898605 | 12.476737 |
| Piazza del Popolo | 41.910660 | 12.476215 |
| Piazza Navona | 41.899113 | 12.473064 |
| Reggia di Caserta | 41.073162 | 14.326926 |
| Rome | 41.902493 | 12.487140 |
| Royce Hall | 34.072941 | -118.442253 |
| Sony Pictures Entertainment | 34.017662 | -118.401184 |
| UCLA | 34.068821 | -118.445351 |
| Universal Studios Hollywood | 34.138126 | -118.353630 |
| Vatican City | 41.903824 | 12.447673 |
Related Movies