Big Locations
Big is an American fantasy comedy-drama film directed by Penny Marshall, written by Gary Ross and Anne Spielberg. Starring Tom Hanks, Elizabeth Perkins, Robert Loggia, John Heard, Jared Rushton, David Moscow, Jon Lovitz, and Mercedes Ruehl, the film was released on June 3, 1988, grossed $151.7 million worldwide, and nominated for 2 Academy Awards. It follows the story of a teenage boy who finds himself mysteriously in the body of an adult after wishing "to be big". Big was mainly shot in New Jersey and New York, USA. Josh's house was located at 437 Greenmount Ave., Cliffside Park, New Jersey. Filming locations included FAO Schwartz, Palisades Interstate Park, Times Square, and Yankee Stadium.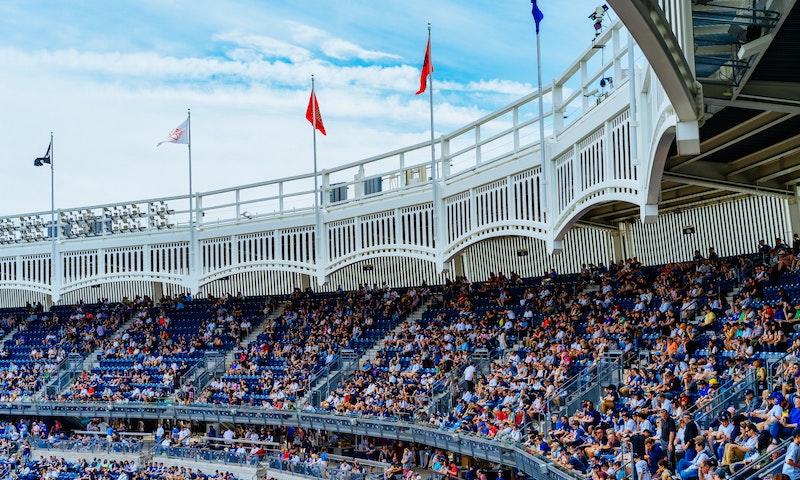 Yankee Stadium. Photo by Dan Gold on Unsplash.
Where was Big Filmed?
Big was filmed in 435 Greenmount Ave (Billy's house), 437 Greenmount Ave (Josh's house), 5th Ave, 83 Grand St, Bronx, Cliffside Park, FAO Schwartz, Fort Lee, Garden State News, George Washington Bridge, Manhattan, New York City, Palisades Interstate Park, Playland Park, Rye, School #6 Cliffside Park, The Home Depot, Times Square, Webster Hall and Yankee Stadium.
The complete list of the locations with latitude and longitude coordinates are listed below in the table.
Big Locations Map
Big Locations Table
| Location Name | Latitude | Longitude |
| --- | --- | --- |
| 435 Greenmount Ave (Billy's house) | 40.825043 | -73.993919 |
| 437 Greenmount Ave (Josh's house) | 40.825134 | -73.994110 |
| 5th Ave | 40.774410 | -73.965721 |
| 83 Grand St | 40.721569 | -74.002586 |
| Bronx | 40.858334 | -73.879189 |
| Cliffside Park | 40.821438 | -73.989197 |
| FAO Schwartz | 40.758633 | -73.979164 |
| Fort Lee | 40.850468 | -73.971794 |
| Garden State News | 40.827118 | -73.986977 |
| George Washington Bridge | 40.851151 | -73.949867 |
| Manhattan | 40.779610 | -73.977905 |
| New York City | 40.714272 | -74.011871 |
| Palisades Interstate Park | 40.854778 | -73.959702 |
| Playland Park | 40.965096 | -73.675179 |
| Rye | 40.979664 | -73.684769 |
| School #6 Cliffside Park | 40.826012 | -73.992554 |
| The Home Depot | 40.741982 | -73.991447 |
| Times Square | 40.757954 | -73.985649 |
| Webster Hall | 40.731754 | -73.989227 |
| Yankee Stadium | 40.829647 | -73.926300 |
Related Movies