Dark Waters Locations
Dark Waters is an American biographical drama-thriller movie directed by Todd Haynes, written by Mario Correa and Matthew Michael Carnahan, produced by Mark Ruffalo, Christine Vachon, and Pamela Kofflerand, based on the article "The Lawyer Who Became DuPont's Worst Nightmare" by Nathaniel Rich. Starring Mark Ruffalo, Anne Hathaway, Tim Robbins, Bill Pullman, Bill Camp, Victor Garber, and Mare Winningham, the film was released on November 22, 2019 (United States). Dark Waters was mainly shot in Cincinnati, Ohio, USA.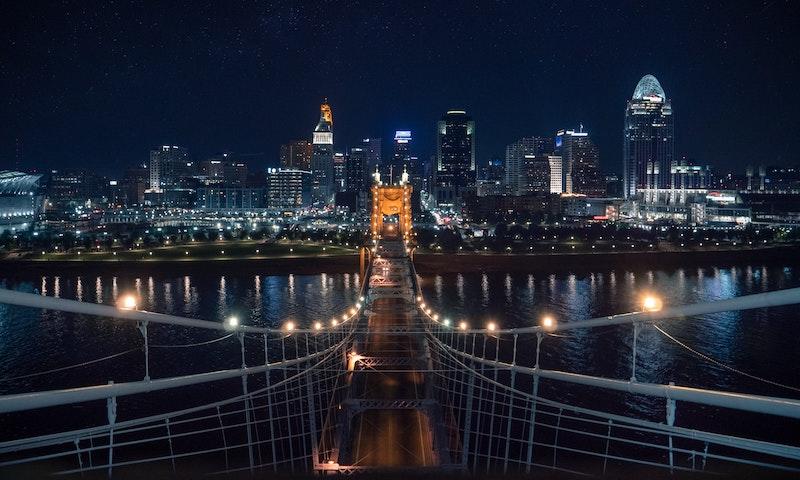 Cincinnati, Ohio, USA. Photo by Matt Koffel on Unplash.
Where was Dark Waters Filmed?
Dark Waters was filmed in 221 Court St, 910 Park Ave, Benihana, Cincinnati, Fountain Square, Hamilton, Haven Ave and U.S. Bank Branch.
The complete list of the locations with latitude and longitude coordinates are listed below in the table.
Dark Waters Locations Map
Dark Waters Locations Table
| Location Name | Latitude | Longitude |
| --- | --- | --- |
| 221 Court St | 39.398636 | -84.561783 |
| 910 Park Ave | 39.410881 | -84.576302 |
| Benihana | 39.283531 | -84.470451 |
| Cincinnati | 39.104710 | -84.521912 |
| Fountain Square | 39.101418 | -84.512527 |
| Hamilton | 39.398930 | -84.569054 |
| Haven Ave | 39.414825 | -84.578178 |
| U.S. Bank Branch | 39.100658 | -84.512245 |
Related Movies