I Know This Much Is True Locations
I Know This Much Is True is a 2020 drama TV miniseries based on the novel of the same title by Wally Lamb. Starring Mark Ruffalo, Philip Ettinger, Kathryn Hahn, Melissa Leo, Juliette Lewis, Rosie O'Donnell, Archie Panjabi, Imogen Poots, John Procaccino, the first episode of the series was written and directed by Derek Cianfrance. In the series, Ruffalo plays a double role of identical middle-aged twin brothers Dominick and Thomas Birdsey. Ruffalo won an award for his performance at the 2021 Golden Globes. I Know This Much Is True was shot on location in Poughkeepsie, Wappingers Falls, and Kingston, New York, USA. Filming also took place at Umbra of Newburgh in New York.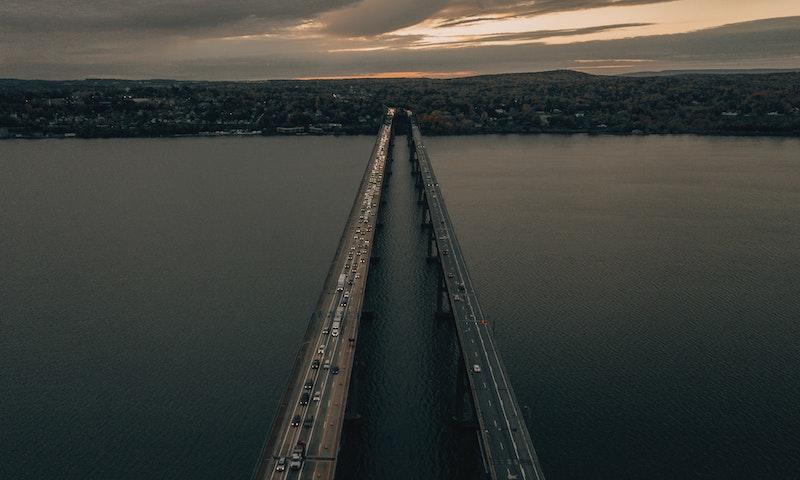 Newburgh, NY, USA. Photo by Clay Banks on Unsplash.
Where was I Know This Much Is True Filmed?
I Know This Much Is True was filmed in 47 Delafield St, All Sport Health & Fitness, Awosting Falls, Ellenville, Kingston, Mid-Hudson Bridge, Pleasant Valley Estates, Poughkeepsie, Stewart International Airport, Umbra of Newburgh, Vassar Brothers Medical Center, Vassar College, Wallkill Valley Rail Trail Bridge and Wappingers Falls.
The complete list of the locations with latitude and longitude coordinates are listed below in the table.
I Know This Much Is True Locations Map
I Know This Much Is True Locations Table
| Location Name | Latitude | Longitude |
| --- | --- | --- |
| 47 Delafield St | 41.711555 | -73.934280 |
| All Sport Health & Fitness | 41.534485 | -73.896233 |
| Awosting Falls | 41.734612 | -74.237282 |
| Ellenville | 41.717594 | -74.396004 |
| Kingston | 41.926815 | -73.999306 |
| Mid-Hudson Bridge | 41.702801 | -73.945213 |
| Pleasant Valley Estates | 41.749298 | -73.840103 |
| Poughkeepsie | 41.700912 | -73.924255 |
| Stewart International Airport | 41.498383 | -74.100990 |
| Umbra of Newburgh | 41.516651 | -74.035591 |
| Vassar Brothers Medical Center | 41.694317 | -73.935806 |
| Vassar College | 41.686207 | -73.897400 |
| Wallkill Valley Rail Trail Bridge | 41.776558 | -74.089180 |
| Wappingers Falls | 41.596249 | -73.912270 |
Related TV Series