Carol (2015) Locations
Carol is an adaptation of the novel "The Price of Salt" by Patricia Highsmith, starring Cate Blanchett, Rooney Mara, Sarah Paulson, Cory Michael Smith, John Magaro, and Jake Lacy. It is a romantic drama film directed by Todd Haynes, written by Phyllis Nagy. It premiered on May 17, 2015, was released on November 20, 2015, and nominated for 6 Oscars including "Best Performance by an Actress in a Leading Role" (Cate Blanchett), "Best Performance by an Actress in a Supporting Role" (Rooney Mara), and Best "Writing, Adapted Screenplay" (Phyllis Nagy). The film was also nominated for Golden Globes for "Best Motion Picture - Drama". Carol depicts the relationship between a young aspiring photographer and an older, smart and beautiful woman in the 1950s. Carol was shot on location in Cincinnati, Ohio, USA.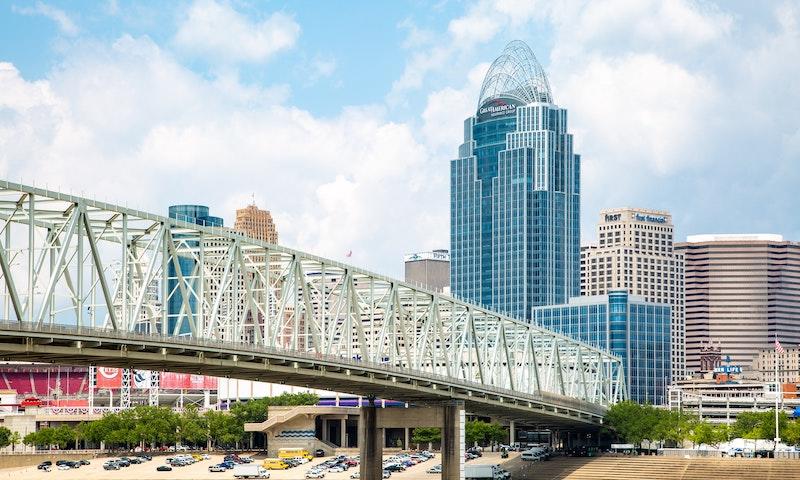 Cincinnati, Ohio, USA. Photo by Rafik Wahba on Unsplash.
Where was Carol (2015) Filmed?
Carol (2015) was filmed in 12th & Walnut, Cincinnati, Eden Park, Evendale, Frankenberg's Department Store, Frankenberg's Toy Department, Grandin Rd (Aird's mansion), Kostas Restaurant, Lake Drive, Maury's Tiny Cove, Netherland Hotel, Shaker Inn and Spare Time Grill.
The complete list of the locations with latitude and longitude coordinates are listed below in the table.
Carol (2015) Locations Map
Carol (2015) Locations Table
| Location Name | Latitude | Longitude |
| --- | --- | --- |
| 12th & Walnut | 39.108517 | -84.513390 |
| Cincinnati | 39.102032 | -84.520775 |
| Eden Park | 39.114304 | -84.494186 |
| Evendale | 39.251015 | -84.435699 |
| Frankenberg's Department Store | 39.103252 | -84.515884 |
| Frankenberg's Toy Department | 39.103794 | -84.514915 |
| Grandin Rd (Aird's mansion) | 39.124744 | -84.442833 |
| Kostas Restaurant | 39.398586 | -84.562035 |
| Lake Drive | 39.118706 | -84.488029 |
| Maury's Tiny Cove | 39.156967 | -84.614021 |
| Netherland Hotel | 39.100788 | -84.515129 |
| Shaker Inn | 39.429993 | -84.218834 |
| Spare Time Grill | 38.973122 | -84.392838 |
Related Movies