Dolittle (2020) Locations
Dolittle is a 2020 American action comedy fantasy adventure movie directed by Stephen Gaghan, written by Gaghan, Dan Gregor, and Doug Mand, and based on a story by Thomas Shepherd. Starring Robert Downey Jr., Antonio Banderas, Michael Sheen, Jim Broadbent, Jessie Buckley, Emma Thompson, Harry Collett, Rami Malek, John Cena, and Octavia Spencer, the film was released on January 17, 2020, in the United States and distributed by Universal Pictures. Dolittle was filmed in the different parts of England such as Cumbria, Somerset, Berkshire, and Hertfordshire, as well as Anglesey in Wales. Filming locations included Blenheim Palace, Menai Suspension Bridge, and Windsor Great Park. Cothay Manor and Gardens was used as Dolittle's House.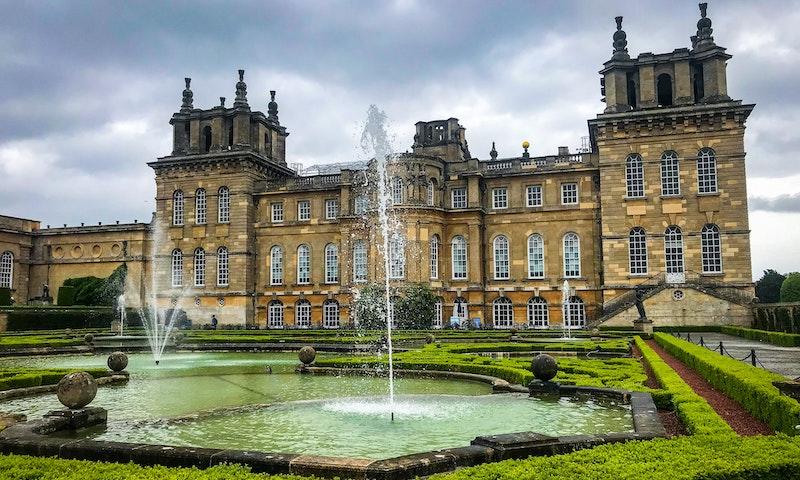 Blenheim Palace. Photo by Carson Vara on Unsplash.
Where was Dolittle (2020) Filmed?
Dolittle (2020) was filmed in Ashridge Estate, Blenheim Palace, Cothay Manor & Gardens, Grassington, Kirkby Lonsdale, Langley Park, Menai Suspension Bridge, New York City, Shepperton Studios, Slough, Universal Studios, Windsor and Windsor Great Park.
The complete list of the locations with latitude and longitude coordinates are listed below in the table.
Dolittle (2020) Locations Map
Dolittle (2020) Locations Table
| Location Name | Latitude | Longitude |
| --- | --- | --- |
| Ashridge Estate | 51.807014 | -0.593570 |
| Blenheim Palace | 51.841358 | -1.361049 |
| Cothay Manor & Gardens | 50.983749 | -3.305019 |
| Grassington | 54.071499 | -1.998440 |
| Kirkby Lonsdale | 54.203152 | -2.597830 |
| Langley Park | 51.508682 | -0.549757 |
| Menai Suspension Bridge | 53.220310 | -4.163404 |
| New York City | 40.713051 | -74.007233 |
| Shepperton Studios | 51.406654 | -0.464665 |
| Slough | 51.509350 | -0.595450 |
| Universal Studios | 34.138371 | -118.359451 |
| Windsor | 51.480049 | -0.605940 |
| Windsor Great Park | 51.424004 | -0.617736 |
Related Movies