Captain America: Civil War Locations
Captain America: Civil War is an American superhero action-adventure film directed by Anthony Russo, Joe Russo, produced by Marvel Studios and distributed by Walt Disney Studios Motion Pictures, based on the Marvel Comics character Captain America. Starring Chris Evans, Robert Downey Jr., Scarlett Johansson, Sebastian Stan, Anthony Mackie, Don Cheadle, Jeremy Renner, Paul Bettany, Elizabeth Olsen, Chadwick Boseman, and Paul Rudd, it was released on May 6, 2016 (United States), grossed $1.153 billion worldwide. So it became one of the highest-grossing films of all time. Filming locations are Fayette County, Georgia, Pinewood Atlanta Studios, Atlanta metropolitan area including the Buckhead district of Atlanta, the Peachtree Christian Church in Midtown Atlanta, and Norcross, Georgia. The film also took place at Porsche Experience Center located in One Porsche Dr, Atlanta.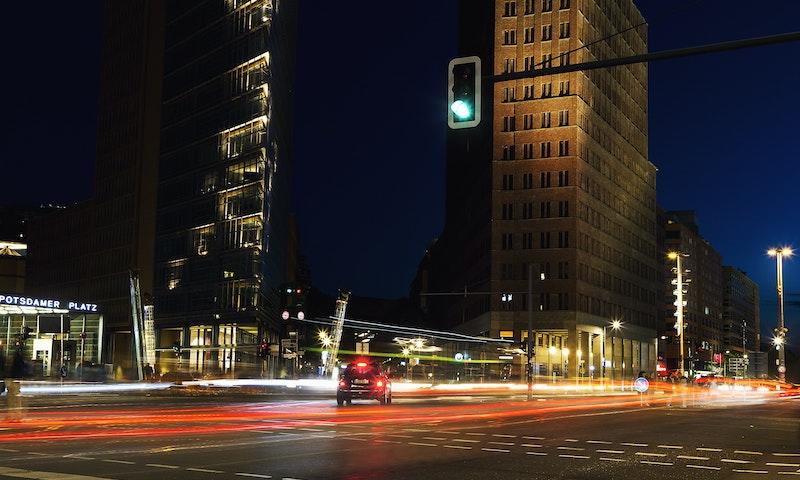 Potsdamer Platz, Berlin. Photo by Kovah on Unsplash.
Where was Captain America: Civil War Filmed?
Captain America: Civil War was filmed in Atlanta, Atlanta Civic Center (closed), Clayton State University, Internationales Congress Centrum Berlin, Leipzig - Halle Airport (Flughafen Leipzig/Halle), Leipziger Straße, Messedamm, Peachtree Christian Church, Pinewood Atlanta Studios, Porsche Experience Center Atlanta, Potsdamer Platz, Richard B. Russell Federal Building, Siegessäule, Spree River and Studio Babelsberg.
The complete list of the locations with latitude and longitude coordinates are listed below in the table.
Captain America: Civil War Locations Map
Captain America: Civil War Locations Table
| Location Name | Latitude | Longitude |
| --- | --- | --- |
| Atlanta | 33.749458 | -84.398178 |
| Atlanta Civic Center (closed) | 33.765102 | -84.381447 |
| Clayton State University | 33.594372 | -84.330582 |
| Internationales Congress Centrum Berlin | 52.503681 | 13.279765 |
| Leipzig - Halle Airport (Flughafen Leipzig/Halle) | 51.421936 | 12.220590 |
| Leipziger Straße | 52.510365 | 13.390154 |
| Messedamm | 52.503498 | 13.278116 |
| Peachtree Christian Church | 33.796902 | -84.389839 |
| Pinewood Atlanta Studios | 33.473118 | -84.512642 |
| Porsche Experience Center Atlanta | 33.649704 | -84.399231 |
| Potsdamer Platz | 52.509254 | 13.376617 |
| Richard B. Russell Federal Building | 33.753338 | -84.395905 |
| Siegessäule | 52.514519 | 13.349975 |
| Spree River | 52.450745 | 13.567760 |
| Studio Babelsberg | 52.387047 | 13.120027 |
Related Movies