The Witcher Locations
The Witcher is a 2019 American fantasy action, adventure, drama web TV series created by Lauren Schmidt Hissrich for Netflix. Starring Henry Cavill, Freya Allan, Joey Batey, MyAnna Buring, Tom Canton, Anya Chalotra, Eamon Farren, and Björn Hlynur Haraldsson, the series is based on Andrzej Sapkowski's book of the same name. It is about a solitary monster hunter, Geralt of Rivia, who struggles to find his place in a world where people often prove more wicked than beast. The show was filmed in Hungary, Gran Canaria, in the Canary Islands, and Ogrodzieniec Castle in Poland.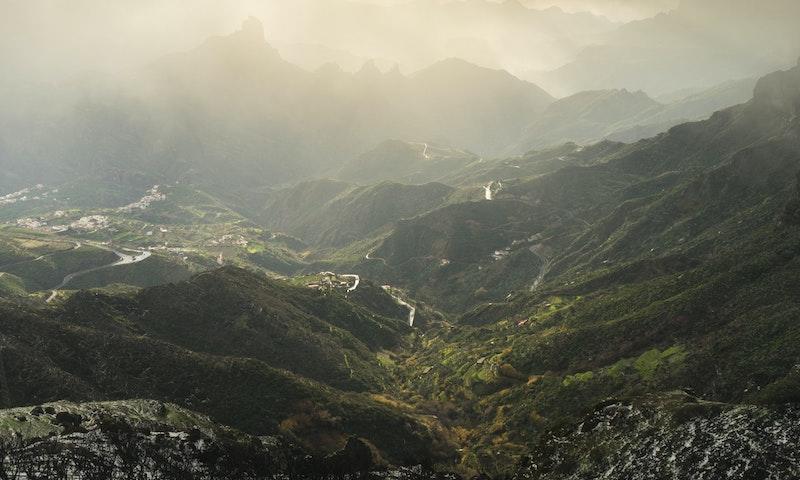 Gran Canaria. Photo by Jef Willemyns on Unsplash.
Where was The Witcher Filmed?
The Witcher was filmed in Agaete, Barranco de Guayedra, Budapest, Cuevas Blancas, El Paso, Fényes Nature Trail, Garafía, Gran Canaria, La Gomera, Maspalomas, Ogrodzieniec, Puntallana, Roque de los Muchachos, Roque Nublo, San Andrés y Sauces, Tamadaba, Tata, Tata Castle and Vienna.
The complete list of the locations with latitude and longitude coordinates are listed below in the table.
The Witcher Locations Map
The Witcher Locations Table
| Location Name | Latitude | Longitude |
| --- | --- | --- |
| Agaete | 28.100040 | -15.700596 |
| Barranco de Guayedra | 28.081303 | -15.708664 |
| Budapest | 47.495399 | 19.033783 |
| Cuevas Blancas | 28.005630 | -15.472176 |
| El Paso | 28.651274 | -17.881313 |
| Fényes Nature Trail | 47.667931 | 18.308722 |
| Garafía | 28.800114 | -17.940407 |
| Gran Canaria | 27.916277 | -15.576009 |
| La Gomera | 28.104111 | -17.221079 |
| Maspalomas | 27.760172 | -15.587452 |
| Ogrodzieniec | 50.449375 | 19.514641 |
| Puntallana | 28.741236 | -17.747492 |
| Roque de los Muchachos | 28.754732 | -17.885109 |
| Roque Nublo | 27.968384 | -15.611610 |
| San Andrés y Sauces | 28.783470 | -17.809893 |
| Tamadaba | 28.049065 | -15.690442 |
| Tata | 47.647720 | 18.313772 |
| Tata Castle | 47.648685 | 18.319477 |
| Vienna | 48.221619 | 16.371840 |
Related TV Series