Twin Peaks Locations
Twin Peaks is an American mystery-drama TV series premiered on April 8, 1990, on ABC. It was created and executive produced by Mark Frost and David Lynch. FBI Special Agent Dale Cooper and local Sheriff Harry S. Truman investigate the murder of a young woman in the fictional town of Twin Peaks, Washington. Starring are Kyle MacLachlan, Michael Ontkean, Mädchen Amick, Dana Ashbrook, and Lara Flynn Boyle. The third season of the series was premiered on Showtime on May 21, 2017, with the title " Twin Peaks: The Return and Twin Peaks: A Limited Event Series". The show won 3 Golden Globes, is regarded as one of the greatest television series of all time. Twin Peaks was filmed in Snoqualmie and North Bend, Washington, USA. Salish Lodge & Spa was used as Great Northern Hotel. Some scenes were shot at City Studios in Los Angeles, California.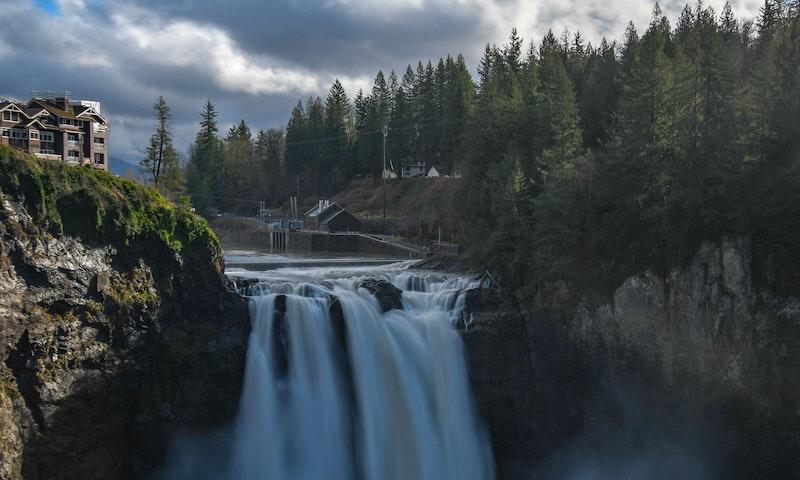 Snoqualmie Falls. Photo by Michael Denning on Unsplash.
Where was Twin Peaks Filmed?
Twin Peaks was filmed in 534 S Lewis St (Palmer residence), City Studios, Ennis House, North Bend, Old Place (The Bookhouse interiors), Salish Lodge & Spa, Snoqualmie and Snoqualmie Falls.
The complete list of the locations with latitude and longitude coordinates are listed below in the table.
Twin Peaks Locations Map
Twin Peaks Locations Table
| Location Name | Latitude | Longitude |
| --- | --- | --- |
| 534 S Lewis St (Palmer residence) | 47.849449 | -121.971672 |
| City Studios | 34.210506 | -118.500076 |
| Ennis House | 34.116222 | -118.293007 |
| North Bend | 47.495548 | -121.789215 |
| Old Place (The Bookhouse interiors) | 34.114597 | -118.778435 |
| Salish Lodge & Spa | 47.542061 | -121.837425 |
| Snoqualmie | 47.527313 | -121.832458 |
| Snoqualmie Falls | 47.541759 | -121.838020 |
Related TV Series