Bridesmaids Locations
Bridesmaids is an American romantic comedy film directed by Paul Feig, written by Annie Mumolo and Kristen Wiig, produced by Judd Apatow, Barry Mendel, and Clayton Townsend. Starring Kristen Wiig, Maya Rudolph, Rose Byrne, Melissa McCarthy, Rebel Wilson, Matt Lucas, Ellie Kemper, Jon Hamm, and Wendi McLendon-Covey, the film was released on May 13, 2011 (United States), earned $288.4 million worldwide and nominated for two Oscars: "Best Performance by an Actress in a Supporting Role" (McCarthy), "Best Writing, Original Screenplay". The Los Angeles County Arboretum and Botanic Garden was used as the location for Lillian and Dougie's wedding. Additional scenes took place in Oxnard, California.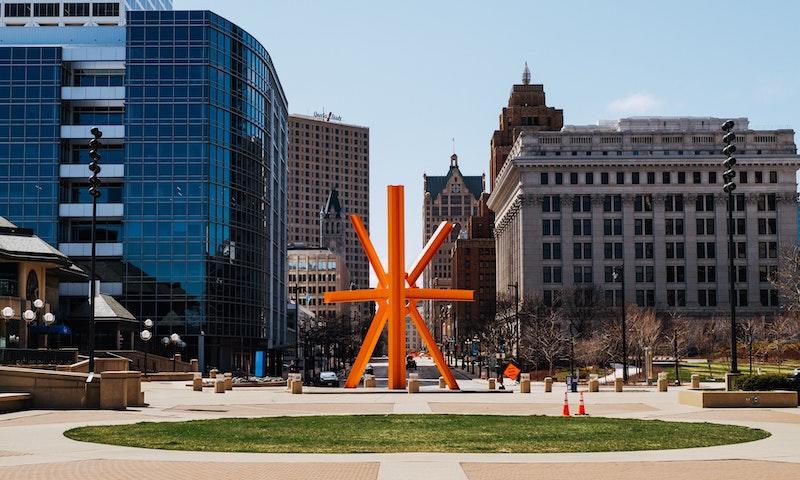 Milwaukee, WI, USA. Photo by Tom Barrett on Unsplash.
Where was Bridesmaids Filmed?
Bridesmaids was filmed in 1009 W Mitchell St (Cholodecki's Jewelry Store), 14032 Oxnard St, 14627 Crenshaw Blvd (Jay's liquor market), 23418 8th St (Judy's House), 23425 8th St (Rhodes' House), 24347 Main St (Bill Cozbi's Auto Body Shop), 2501 South Kinnickinnic Ave (Annie's Apartment), 300 San Juan Ave (Lillian's Apartment), 3218 West Cameron Ave, 3722 Sapphire Dr (Ted's House), 380 S San Rafael Ave (Bridal Shower), Air Hollywood Inc, Chicago, Los Angeles County Arboretum (Lillian and Dougie's Wedding), Milwaukee, Orange, Oxnard, Paramount Studios (Cake Baby Bakery), Redwood Bar & Grill and Santa Clarita.
The complete list of the locations with latitude and longitude coordinates are listed below in the table.
Bridesmaids Locations Map
Bridesmaids Locations Table
| Location Name | Latitude | Longitude |
| --- | --- | --- |
| 1009 W Mitchell St (Cholodecki's Jewelry Store) | 43.012047 | -87.924515 |
| 14032 Oxnard St | 34.179169 | -118.439026 |
| 14627 Crenshaw Blvd (Jay's liquor market) | 33.898582 | -118.327156 |
| 23418 8th St (Judy's House) | 34.373066 | -118.540733 |
| 23425 8th St (Rhodes' House) | 34.373440 | -118.540947 |
| 24347 Main St (Bill Cozbi's Auto Body Shop) | 34.379658 | -118.529205 |
| 2501 South Kinnickinnic Ave (Annie's Apartment) | 42.999210 | -87.901428 |
| 300 San Juan Ave (Lillian's Apartment) | 33.990833 | -118.470619 |
| 3218 West Cameron Ave | 43.107452 | -87.953651 |
| 3722 Sapphire Dr (Ted's House) | 34.138279 | -118.486664 |
| 380 S San Rafael Ave (Bridal Shower) | 34.137367 | -118.170105 |
| Air Hollywood Inc | 34.273930 | -118.422157 |
| Chicago | 41.878536 | -87.664299 |
| Los Angeles County Arboretum (Lillian and Dougie's Wedding) | 34.144478 | -118.051483 |
| Milwaukee | 43.041069 | -87.909416 |
| Orange | 33.788754 | -117.857285 |
| Oxnard | 34.197659 | -119.175949 |
| Paramount Studios (Cake Baby Bakery) | 34.084785 | -118.319595 |
| Redwood Bar & Grill | 34.052727 | -118.247536 |
| Santa Clarita | 34.391171 | -118.545471 |
| Sherwood Country Club (Lillian's Engagement) | 34.132053 | -118.884674 |
| The Majestic Downtown | 34.044621 | -118.251900 |
| West Gonzales Road | 34.219498 | -119.240601 |
Related Movies