Game of Thrones Locations
Game of Thrones is one of the most popular American TV series in the world. It was created by David Benioff and D. B. Weiss, ran for 8 seasons (73 episodes) on HBO. This fantasy drama show was shot in Northern Ireland, Iceland, Malta, Croatia, Morocco, Canada, and Spain. Peter Dinklage, Lena Headey, Emilia Clarke, Kit Harington, Maisie Williams, Sophie Turner, and Liam Cunningham starred on the show. Game of Thrones was filmed in several parts of the world such as Croatia, Morocco, Northern Ireland, Iceland, Malta, Spain, Scotland, and the USA. Tollymore Forest Park, Harland and Wolff Paint Hall and Castle Ward in Northern Ireland, Klis Fortress in Croatia, Volcano, Skaftafell National Park in Iceland, Castle of Zafra in Spain were among the filming locations.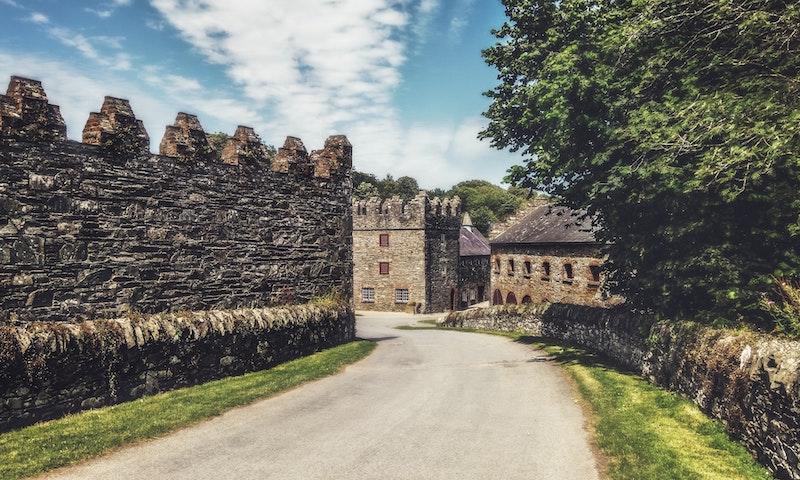 Castle Ward, Northern Ireland. Photo by K. Mitch Hodge on Unsplash.
Where was Game of Thrones Filmed?
Game of Thrones was filmed in Almodóvar del Río, Antrim, Ballymoney, Barrika, Cáceres, Canet de Mar, Carncastle, Castillo de Zafra, Cinema Studio Atlas, Cordoba, Doune Castle, Dubrovnik, Essaouira, Giant's Causeway, Girona's Cathedral, Gozo Island, Itálica, Kastilac Fort, Klis Fortress and La Mesa Roldàn.
The complete list of the locations with latitude and longitude coordinates are listed below in the table.
Game of Thrones Locations Map
Game of Thrones Locations Table
| Location Name | Latitude | Longitude |
| --- | --- | --- |
| Almodóvar del Río | 37.809589 | -5.019960 |
| Antrim | 54.718548 | -6.210753 |
| Ballymoney | 55.070709 | -6.515020 |
| Barrika | 43.407829 | -2.965030 |
| Cáceres | 39.476219 | -6.370860 |
| Canet de Mar | 41.588970 | 2.581920 |
| Carncastle | 54.894138 | -5.879300 |
| Castillo de Zafra | 40.834949 | -1.706346 |
| Cinema Studio Atlas | 30.948704 | -6.981378 |
| Cordoba | 37.884720 | -4.779130 |
| Doune Castle | 56.187778 | -4.052990 |
| Dubrovnik | 42.650661 | 18.094423 |
| Essaouira | 31.506327 | -9.754354 |
| Giant's Causeway | 55.240734 | -6.511576 |
| Girona's Cathedral | 41.987343 | 2.826289 |
| Gozo Island | 36.044300 | 14.251222 |
| Itálica | 37.444202 | -6.046605 |
| Kastilac Fort | 43.550320 | 16.399990 |
| Klis Fortress | 43.560493 | 16.523188 |
| La Mesa Roldàn | 36.942535 | -1.908584 |
| Los Angeles | 34.052235 | -118.243683 |
| Magheramorne Quarry | 54.806568 | -5.789620 |
| Malpartida de Cáceres | 39.446171 | -6.505740 |
| Marrakech | 31.669746 | -7.973328 |
| Mdina | 35.885834 | 14.403056 |
| Osuna | 37.237061 | -5.102780 |
| Ouarzazate | 30.918871 | -6.902170 |
| Real Alcázar de Sevilla | 37.383053 | -5.990226 |
| Reales Atarazanas de Sevilla | 37.384670 | -5.995328 |
| San Juan de Gaztelugatxe | 43.446957 | -2.785272 |
| Seville | 37.392529 | -5.994072 |
| Sierra de la Alhamilla | 36.981480 | -2.360065 |
| Skaftafell | 64.087898 | -17.252783 |
| Split | 43.508133 | 16.440193 |
| Svínafellsjökull | 64.008659 | -17.119110 |
| Titanic Studios | 54.610809 | -5.905174 |
| Tollymore Forest Park | 54.217945 | -5.944065 |
| Trujillo | 39.458500 | -5.879520 |
| Valletta | 35.898907 | 14.514553 |
| Vrsno | 43.628521 | 16.061279 |
| Winterfell Castle & Demesne | 54.372768 | -5.579086 |
| Wolf Hill Quarry | 54.631222 | -6.009655 |
| Zumaia | 43.297260 | -2.256850 |
Related TV Series