Girls Locations
Girls is an American comedy-drama TV series created by Lena Dunham, executive produced by Judd Apatow, and aired on HBO. Starring Lena Dunham, Allison Williams, Jemima Kirke, Zosia Mamet, Adam Driver, Alex Karpovsky, and Andrew Rannells, the show was released between April 15, 2012, and April 16, 2017, won 2 Golden Globes: "Best Television Series - Comedy or Musical" and "Best Performance by an Actress in a Television Series - Comedy or Musical" (Lena Dunham) in 2013. The series follows the experiences of four young women living in New York City. Girls was filmed in New York Bay, New York, USA. Additional filming took place at Silvercup Studios in New York City.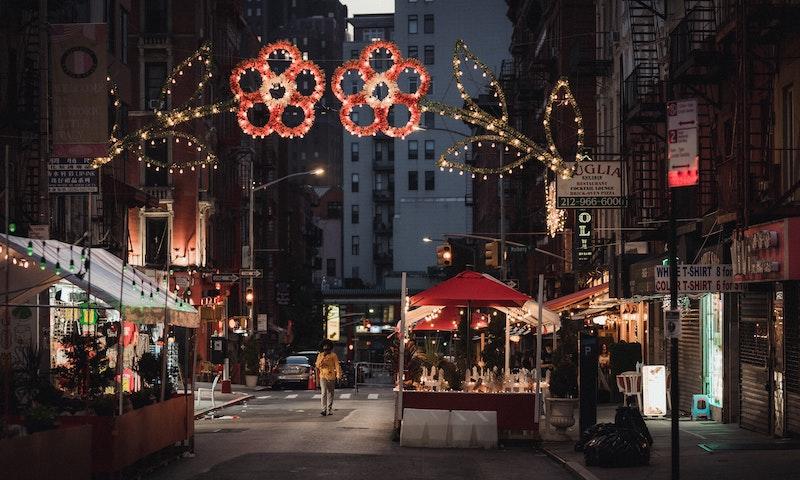 Little Italy, NY, USA. Photo by Lerone Pieters on Unsplash.
Where was Girls Filmed?
Girls was filmed in 16 Handles (Closed), Aurora, Bar Matchless, Bellwether (Closed), Café Grumpy, Cafe Mogador, Dylan's Candy Bar, Erin McKenna's Bakery NYC (BabyCakes), Fada, Felix, Gizmodo Media, Gramercy Park Hotel, Grand Central Terminal, INTERMIX, Joe's Shanghai, Kasia's, Lehmann Maupin, Little Italy, Lucky Strike and Luna Park.
The complete list of the locations with latitude and longitude coordinates are listed below in the table.
Girls Locations Map
Girls Locations Table
| Location Name | Latitude | Longitude |
| --- | --- | --- |
| 16 Handles (Closed) | 40.722767 | -73.997299 |
| Aurora | 40.715664 | -73.964882 |
| Bar Matchless | 40.722206 | -73.950127 |
| Bellwether (Closed) | 40.718204 | -73.952011 |
| Café Grumpy | 40.728600 | -73.948685 |
| Cafe Mogador | 40.719749 | -73.960121 |
| Dylan's Candy Bar | 40.762386 | -73.965721 |
| Erin McKenna's Bakery NYC (BabyCakes) | 40.718140 | -73.989609 |
| Fada | 40.717579 | -73.956207 |
| Felix | 40.722538 | -74.003906 |
| Gizmodo Media | 40.738037 | -73.993042 |
| Gramercy Park Hotel | 40.738472 | -73.985771 |
| Grand Central Terminal | 40.752743 | -73.977333 |
| INTERMIX | 40.724567 | -73.998978 |
| Joe's Shanghai | 40.715618 | -73.996819 |
| Kasia's | 40.718918 | -73.956863 |
| Lehmann Maupin | 40.722256 | -73.992065 |
| Little Italy | 40.718979 | -73.997963 |
| Lucky Strike | 40.722095 | -74.003624 |
| Luna Park | 40.574505 | -73.978645 |
| Meow Parlour | 40.715572 | -73.990356 |
| Pete's Candy Store | 40.718124 | -73.950317 |
| Peter Luger Steak House | 40.709751 | -73.962547 |
| Rice To Riches | 40.721794 | -73.995872 |
| Roberta's | 40.705105 | -73.933670 |
| Saxon + Parole | 40.725166 | -73.992645 |
| Speedy Romeo | 40.687519 | -73.960129 |
| Spoonbill & Sugartown Books | 40.716614 | -73.959198 |
| Spring Natural | 40.721100 | -73.996948 |
| Staten Island Ferry Whitehall Terminal | 40.700668 | -74.013016 |
| Sugar Shop (Closed) | 40.686111 | -73.994446 |
| The Brill Building | 40.761139 | -73.984772 |
| The Carlyle | 40.774292 | -73.962997 |
| The Foundry | 40.753078 | -73.949425 |
| The Globe | 40.738819 | -73.983887 |
| The Jane | 40.738274 | -74.009331 |
| The Williamsburg Edge | 40.720650 | -73.963219 |
| Tom & Jerry's | 40.724606 | -73.993149 |
| Vesuvio Playground | 40.725254 | -74.002563 |
| Warwick New York | 40.762432 | -73.978127 |
| Washington Commons | 40.675434 | -73.963501 |
| Washington Square Park | 40.730751 | -73.997269 |
| Weather Up | 40.679878 | -73.967796 |
Related TV Series