About Time Locations
About Time is a British romantic comedy-drama fantasy film written and directed by Richard Curtis, starring Domhnall Gleeson, Rachel McAdams, Lydia Wilson, Lindsay Duncan, Richard Cordery, Margot Robbie, and Bill Nighy. The film was released on 4 September 2013 (United Kingdom). It is about a young man, Tim who can travel in time and he tries to change his past in hopes of improving his future. About Time earned $87.1 million worldwide against a $12 million budget. Porthpean House in Cornwall was used for the scenes of Tim's family house. The film was almost entirely shot in London and Cornwall. The restaurant scene took place at 1 Newburgh Street in London.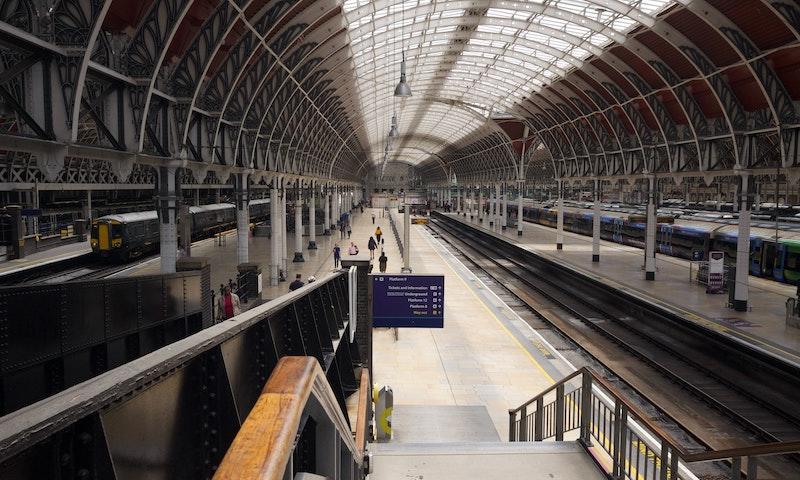 Paddington Station, London, UK. Photo by Tim Bechervaise on Unsplash.
Where was About Time Filmed?
About Time was filmed in 102 Golborne Rd (Mary's Apartment), 59 Brondesbury Rd (Harry's House), Abbey Road, Brondesbury Road, Cornwall, Courtfield Gardens, Lincoln's Inn Fields, Maida Vale Station, National Theatre, Notting Hill, Paddington Station, Porthpean House, Portloe, Restaurant Scene, Royal Courts of Justice, St. Michael Penkivel Church, The Old Vic, Vault Beach, Whitehouse Apartments and Zorba's Greek Taverna (Closed).
The complete list of the locations with latitude and longitude coordinates are listed below in the table.
About Time Locations Map
About Time Locations Table
| Location Name | Latitude | Longitude |
| --- | --- | --- |
| 102 Golborne Rd (Mary's Apartment) | 51.521729 | -0.209130 |
| 59 Brondesbury Rd (Harry's House) | 51.536709 | -0.199276 |
| Abbey Road | 51.534691 | -0.180429 |
| Brondesbury Road | 51.535400 | -0.202464 |
| Cornwall | 50.422695 | -5.036829 |
| Courtfield Gardens | 51.492954 | -0.189028 |
| Lincoln's Inn Fields | 51.516319 | -0.117331 |
| Maida Vale Station | 51.529877 | -0.185769 |
| National Theatre | 51.506969 | -0.114260 |
| Notting Hill | 51.512131 | -0.206180 |
| Paddington Station | 51.516685 | -0.176998 |
| Porthpean House | 50.323486 | -4.767002 |
| Portloe | 50.218380 | -4.898050 |
| Restaurant Scene | 51.513447 | -0.138481 |
| Royal Courts of Justice | 51.513634 | -0.113328 |
| St. Michael Penkivel Church | 50.240417 | -5.005598 |
| The Old Vic | 51.502075 | -0.109354 |
| Vault Beach | 50.233795 | -4.791754 |
| Whitehouse Apartments | 51.505287 | -0.114743 |
| Zorba's Greek Taverna (Closed) | 51.512135 | -0.183459 |
Related Movies