The Revenant Locations
The Revenant is an action, adventure, biographical movie directed by Alejandro G. Iñárritu, written by Mark L. Smith and Alejandro G. Iñárritu, based in part on the novel by Michael Punke. Starring Leonardo DiCaprio, Tom Hardy, Will Poulter, Domhnall Gleeson, Forrest Goodluck, and Paul Anderson, the film was released on December 25, 2015 (United States), won 3 Academy Awards including "Best Performance by an Actor in a Leading Role" (Leonardo DiCaprio). It was also nominated for "Best Motion Picture of the Year" too. The film received acclaim from viewers and critics. The Revenant was shot in Canada, Argentina, and the United States. Filming took place at the Kootenai Falls, Montana; Fortress Mountain in Alberta; and Mammoth Studios in Burnaby.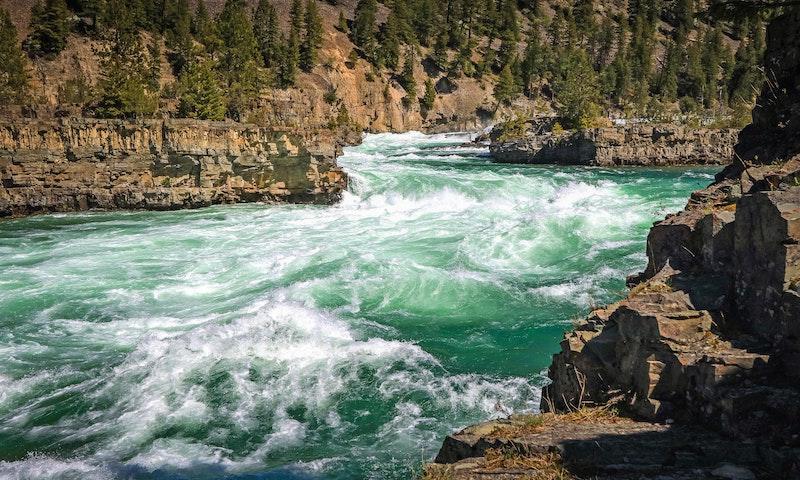 Kootenai Falls. Photo by Tim Peterson on Unsplash.
Where was The Revenant Filmed?
The Revenant was filmed in Burnaby, Calgary, Canmore, Drumheller, Fortress Mountain, Kananaskis, Libby, Mammoth Studios, Morley, San Francisco Mountain, Sierra Madre Occidental, Ushuaia and White Mountains.
The complete list of the locations with latitude and longitude coordinates are listed below in the table.
The Revenant Locations Map
The Revenant Locations Table
| Location Name | Latitude | Longitude |
| --- | --- | --- |
| Burnaby | 49.243252 | -122.974190 |
| Calgary | 51.048615 | -114.070847 |
| Canmore | 51.087734 | -115.349503 |
| Drumheller | 51.461781 | -112.724571 |
| Fortress Mountain | 50.821568 | -115.199104 |
| Kananaskis | 51.078072 | -115.122597 |
| Libby | 48.388279 | -115.555809 |
| Mammoth Studios | 49.258781 | -122.927109 |
| Morley | 51.168930 | -114.853279 |
| San Francisco Mountain | 35.339813 | -111.685188 |
| Sierra Madre Occidental | 25.955824 | -107.048744 |
| Ushuaia | -54.806255 | -68.309647 |
| White Mountains | 33.910648 | -109.592888 |
Related Movies