Ex Machina Locations
Ex Machina is a science fiction drama mystery film written and directed by Alex Garland. Starring Alicia Vikander, Domhnall Gleeson, Oscar Isaac, and Sonoya Mizuno, the film was released on 21 January 2015 (United Kingdom) and 10 April 2015 (United States), won Best Achievement in Visual Effects at the 2016 Academy Awards. Vikander's performance also earned her Golden Globe Award, BAFTA Award, Empire Award, and Saturn Award nominations. The film was mostly filmed at Pinewood Studios. And some of the filming took place at Juvet Landscape Hotel in Valldalen, Norway.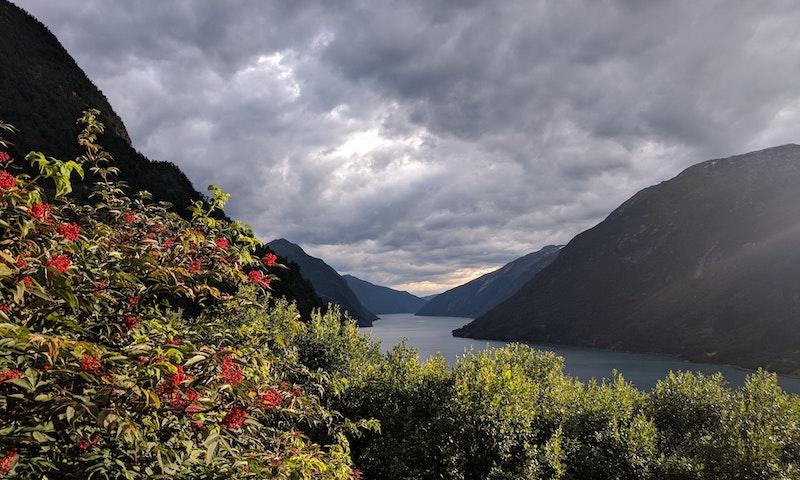 Sognefjord. Photo by Lisa Ursprunger on Unsplash.
Where was Ex Machina Filmed?
Ex Machina was filmed in Briksdalen (Briksdalsbre), Juvet Landscape Hotel, Pinewood Studios, Sognefjord (Sognefjorden) and Valldalen.
The complete list of the locations with latitude and longitude coordinates are listed below in the table.
Ex Machina Locations Map
Ex Machina Locations Table
| Location Name | Latitude | Longitude |
| --- | --- | --- |
| Briksdalen (Briksdalsbre) | 61.665886 | 6.876904 |
| Juvet Landscape Hotel | 62.332474 | 7.471055 |
| Pinewood Studios | 51.548626 | -0.534977 |
| Sognefjord (Sognefjorden) | 61.150902 | 6.546591 |
| Valldalen | 62.299923 | 7.253477 |
Related Movies