Black Swan Locations
Black Swan is an American psychological horror-thriller film directed by Darren Aronofsky, written by Mark Heyman, John McLaughlin, and Andres Heinz, based on an original story by Heinz. Starring Natalie Portman, Mila Kunis, Vincent Cassel, Barbara Hershey, Winona Ryder, and Benjamin Millepied, the film was released on December 3, 2010 (United States), grossed $329.4 million, received acclaim from critics and viewers. The film won the 2011 Academy Awards, Golden Globes, and BAFTA Awards for "Best Leading Actress" (Natalie Portman). Black Swan was filmed at the State University of New York at Purchase Performing Arts Center.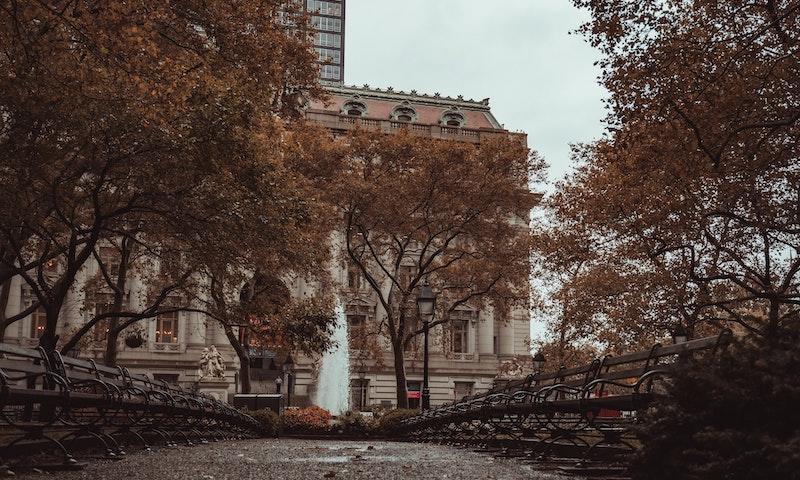 Bowling Green, NY, USA. Photo by Lerone Pieters on Unsplash.
Where was Black Swan Filmed?
Black Swan was filmed in Bowling Green, Broadway, Brooklyn Museum, Lincoln Center for the Performing Arts, Manhattan, The Performing Arts Center and Woodhull Medical and Mental Health Center.
The complete list of the locations with latitude and longitude coordinates are listed below in the table.
Black Swan Locations Map
Black Swan Locations Table
| Location Name | Latitude | Longitude |
| --- | --- | --- |
| Bowling Green | 40.704563 | -74.013977 |
| Broadway | 40.812424 | -73.962723 |
| Brooklyn Museum | 40.671070 | -73.963783 |
| Lincoln Center for the Performing Arts | 40.772411 | -73.983566 |
| Manhattan | 40.770885 | -73.987007 |
| The Performing Arts Center | 41.048523 | -73.705238 |
| Woodhull Medical and Mental Health Center | 40.699646 | -73.942574 |
Related Movies