Blue Jasmine Locations
Blue Jasmine is an American comedy-drama movie written and directed by Woody Allen. Starring Cate Blanchett, Sally Hawkins, Peter Sarsgaard, Alec Baldwin, Charlie Tahan, Tammy Blanchard, and Richard Conti, the film follows a Manhattan socialite who has to move into her sister's place, but she isn't rich anymore and definitely doesn't bring any peace. It was released on August 23, 2013, in the United States, earned $99.1 million worldwide and won the 2014 Academy Awards for "Best Performance by an Actress in a Leading Role" (Cate Blanchett). Blue Jasmine was shot in San Francisco, California and Manhattan, New York. Filming locations included Market Street, San Francisco Bay, New Central Café, South Park, Marina District, and Ocean Beach.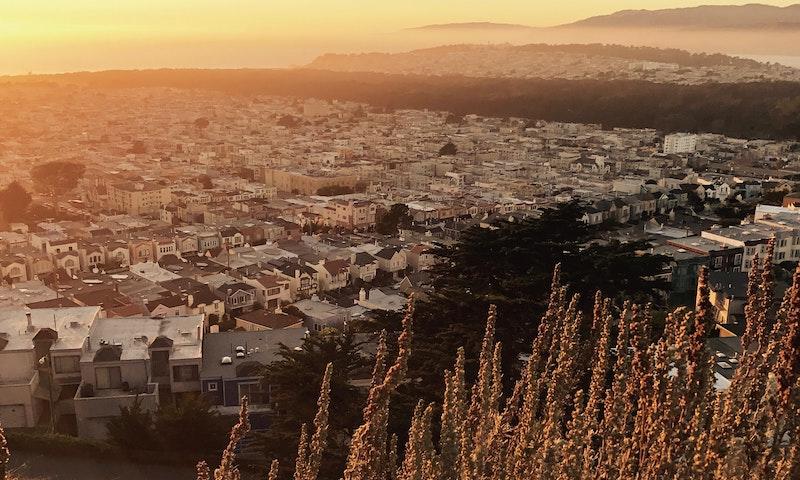 Sunset District. Photo by Nicolas Backal on Unsplash.
Where was Blue Jasmine Filmed?
Blue Jasmine was filmed in 11th St, 24th St & Florida St, 301 S Van Ness Ave, 5546 Geary Blvd, 5th Ave & W 55th St, Belvedere, Britton Ave, California St & Grant Ave, Capp St & 20th St, Gaspare's Pizza House & Italian Restaurant, Ginger's Flat, Golden Gate Bridge, Larkspur, Lexington St & 20th St, Madison Ave & E 63rd St, Marina District, Market St, Mauboussin, Motel Capri and Ocean Beach.
The complete list of the locations with latitude and longitude coordinates are listed below in the table.
Blue Jasmine Locations Map
Blue Jasmine Locations Table
| Location Name | Latitude | Longitude |
| --- | --- | --- |
| 11th St | 37.772644 | -122.415085 |
| 24th St & Florida St | 37.752735 | -122.410126 |
| 301 S Van Ness Ave | 37.768253 | -122.417549 |
| 5546 Geary Blvd | 37.780605 | -122.479172 |
| 5th Ave & W 55th St | 40.761662 | -73.974998 |
| Belvedere | 37.873707 | -122.466408 |
| Britton Ave | 37.874641 | -122.471535 |
| California St & Grant Ave | 37.792458 | -122.406029 |
| Capp St & 20th St | 37.758694 | -122.418022 |
| Gaspare's Pizza House & Italian Restaurant | 37.780617 | -122.479156 |
| Ginger's Flat | 37.768246 | -122.417770 |
| Golden Gate Bridge | 37.819836 | -122.478592 |
| Larkspur | 37.939743 | -122.538185 |
| Lexington St & 20th St | 37.758514 | -122.420616 |
| Madison Ave & E 63rd St | 40.766056 | -73.969681 |
| Marina District | 37.805717 | -122.440994 |
| Market St | 37.773315 | -122.421463 |
| Mauboussin | 40.766376 | -73.969780 |
| Motel Capri | 37.799175 | -122.433044 |
| Ocean Beach | 37.759357 | -122.510857 |
| Pacific Heights | 37.792645 | -122.438812 |
| Quogue | 40.826420 | -72.606316 |
| S Van Ness Ave | 37.767750 | -122.417908 |
| San Francisco Bay | 37.774944 | -122.428589 |
| Shreve & Co. | 37.788883 | -122.404793 |
| South Park | 37.781788 | -122.394249 |
| South Street Seaport Historic District | 40.707096 | -74.003548 |
| Sunset District | 37.751492 | -122.488815 |
| Tiburon | 37.896160 | -122.477486 |
| West Portal | 37.741699 | -122.467087 |
| Zam Zam | 37.769531 | -122.449440 |
Related Movies