Downton Abbey Locations
Downton Abbey is a British historical period drama TV series created by Julian Fellowes, written by Julian Fellowes, Shelagh Stephenson, and Tina Pepler. It was aired between 26 September 2010 and 25 December 2015 on ITV in the United Kingdom, on PBS in the United States. Starring Hugh Bonneville, Phyllis Logan, Elizabeth McGovern, Brendan Coyle, Jim Carter, Laura Carmichael, Michelle Dockery, Joanne Froggatt, Robert James-Collier, Phyllis Logan, Sophie McShera, Lesley Nicol, and Maggie Smith, the series won 3 Golden Globes. The show follows the lives of the British aristocratic Crawley family and their servants in the early 20th century. Highclere Castle was used as the main filming location for the series. Interior scenes were shot in West Wycombe House. Christmas episodes were filmed in the Alnwick Castle. Bampton, Oxfordshire, England was used as Downton village. Some of the filming took place at Ealing Studios.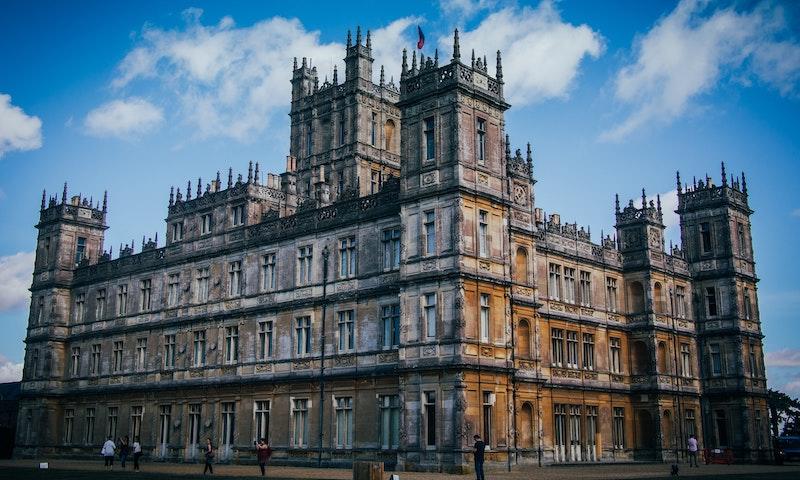 Highclere Castle, UK. Photo by Greg Willson on Unsplash.
Where was Downton Abbey Filmed?
Downton Abbey was filmed in 224 Piccadilly, Akenham, Alnwick Castle, Bampton (Downton village), Bampton Library, Basildon Park, Beamish, the Living Museum of the North, Bluebell Railway (Horsted Keynes Station), Bridgewater House, Byfleet, Chepstow Villas, Chiltern Open Air Museum, Cogges Manor Farm, Ditchley Park, Ealing Studios, Eton College, Goldsmiths, University of London, Goodwood Motor Circuit, Great Coxwell Barn and Greys Court.
The complete list of the locations with latitude and longitude coordinates are listed below in the table.
Downton Abbey Locations Map
Downton Abbey Locations Table
| Location Name | Latitude | Longitude |
| --- | --- | --- |
| 224 Piccadilly | 51.509743 | -0.133967 |
| Akenham | 52.093922 | 1.131719 |
| Alnwick Castle | 55.415546 | -1.705989 |
| Bampton (Downton village) | 51.723583 | -1.549454 |
| Bampton Library | 51.726967 | -1.548439 |
| Basildon Park | 51.499111 | -1.121558 |
| Beamish, the Living Museum of the North | 54.881813 | -1.659214 |
| Bluebell Railway (Horsted Keynes Station) | 51.046162 | -0.044808 |
| Bridgewater House | 51.504288 | -0.139913 |
| Byfleet | 51.340130 | -0.471395 |
| Chepstow Villas | 51.513222 | -0.199399 |
| Chiltern Open Air Museum | 51.634502 | -0.543725 |
| Cogges Manor Farm | 51.784290 | -1.475923 |
| Ditchley Park | 51.887600 | -1.433900 |
| Ealing Studios | 51.508587 | -0.305769 |
| Eton College | 51.495640 | -0.604831 |
| Goldsmiths, University of London | 51.474220 | -0.035693 |
| Goodwood Motor Circuit | 50.859932 | -0.751498 |
| Great Coxwell Barn | 51.644440 | -1.612656 |
| Greys Court | 51.545319 | -0.954136 |
| Hall Barn | 51.594051 | -0.639484 |
| Halton | 51.782089 | -0.735639 |
| Halton House | 51.782425 | -0.725675 |
| Hedsor House | 51.565552 | -0.691422 |
| Highclere Castle (Downton Abbey) | 51.326546 | -1.360797 |
| Hoxton Hall | 51.531776 | -0.080076 |
| Hulne Priory | 55.435020 | -1.743013 |
| Inveraray Castle | 56.237518 | -5.073753 |
| Kent & East Sussex Railway | 51.070141 | 0.684922 |
| Lacock | 51.415222 | -2.122449 |
| Lancaster House | 51.503914 | -0.138844 |
| Lincoln Castle | 53.234547 | -0.540848 |
| Middle Temple Ln | 51.512306 | -0.111059 |
| Pall Mall | 51.506691 | -0.134066 |
| Red Lion | 51.929012 | -1.316476 |
| Royal Holloway | 51.425724 | -0.563353 |
| Savile Club | 51.512356 | -0.149145 |
| St Mary's Church | 51.727669 | -1.548874 |
| St. Pancras Renaissance Hotel London | 51.529732 | -0.125930 |
| Stockers Farm | 51.630356 | -0.474717 |
| The Albert Memorial | 51.502357 | -0.177759 |
| The Charterhouse | 51.520962 | -0.099892 |
| The Historic Dockyard Chatham | 51.397167 | 0.528812 |
| The Langdon Down Museum | 51.418858 | -0.315325 |
| The Old Forge | 51.727097 | -1.547301 |
| The Swan Inn | 51.804790 | -1.592184 |
| Waddesdon Manor | 51.842262 | -0.937641 |
| West Wittering Beach | 50.775200 | -0.907642 |
| West Wycombe House (Downton Abbey interiors) | 51.641239 | -0.803694 |
Related TV Series