Knives Out Locations
Knives Out is a 2019 American murder, mystery & suspense movie directed and written by Rian Johnson. Starring Daniel Craig, Chris Evans, Jamie Lee Curtis, Ana de Armas, Michael Shannon, Toni Collette, and Christopher Plummer, the film tells a murder mystery. Detective Benoit Blanc (played by Daniel Craig) investigates the death of a renowned crime novelist Harlan Thrombey. It was released on Nov 27, 2019, and nominated for an Oscar for "Best Original Screenplay". Knives Out was filmed in Maynard, Waltham, Easton, Medfield, Marlborough, Natick, and Boston, Massachusetts. Filming also took place at the Ames Mansion in Borderland State Park.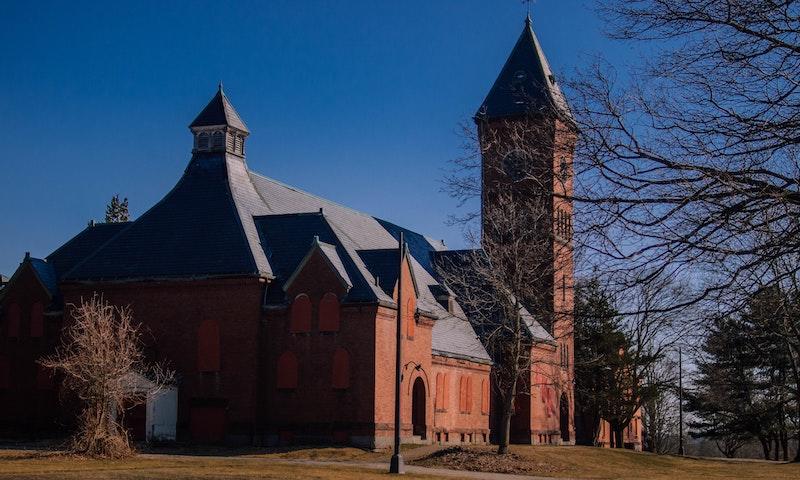 Medfield State Hospital. Photo by Jack Schwartz on Unsplash.
Where was Knives Out Filmed?
Knives Out was filmed in 525 Maple St, Ames Borderland Mansion (Thrombey House Library - interior), Borderland State Park, Boston, Easton, Flat Penny Bar & Grill, Hunnewell Estates Historic District, Marlborough, Maynard, Medfield, Medical Examiner's Office Fire, Natick, Waltham and Wellesley.
The complete list of the locations with latitude and longitude coordinates are listed below in the table.
Knives Out Locations Map
Knives Out Locations Table
| Location Name | Latitude | Longitude |
| --- | --- | --- |
| 525 Maple St | 42.329643 | -71.539627 |
| Ames Borderland Mansion (Thrombey House Library - interior) | 42.062698 | -71.164413 |
| Borderland State Park | 42.062695 | -71.164574 |
| Boston | 42.358990 | -71.058632 |
| Easton | 42.029789 | -71.131462 |
| Flat Penny Bar & Grill | 42.391830 | -71.661087 |
| Hunnewell Estates Historic District | 42.284267 | -71.306564 |
| Marlborough | 42.346951 | -71.547180 |
| Maynard | 42.430309 | -71.460449 |
| Medfield | 42.186630 | -71.305450 |
| Medical Examiner's Office Fire | 42.329788 | -71.539879 |
| Natick | 42.285175 | -71.353073 |
| Waltham | 42.376484 | -71.235611 |
| Wellesley | 42.296928 | -71.291862 |
Related Movies