Nomadland Locations
Written and directed by Chloé Zhao, based on the book "Nomadland: Surviving America in the Twenty-First Century" by Jessica Bruder, the film stars Frances McDormand, David Strathairn, Linda May, along with real-life nomads Linda May, Bob Wells, and Swankie. "Nomadland" premiered at the Venice Film Festival, and was released on February 19, 2021, in the United States, won 2 Golden Globes: "Best Motion Picture - Drama" and "Best Director - Motion Picture". Nomadland won three Oscars in 2021 including "Best Performance by an Actress in a Leading Role" and "Best Motion Picture of the Year". So, the leading actress Frances McDormand became the first actress to win for acting and producing for the same movie, while Chloé Zhao became the first Asian woman to win Best Director. Nomadland was shot in different parts of South Dakota. Filming also took place in Nevada, Arizona, and Nebraska.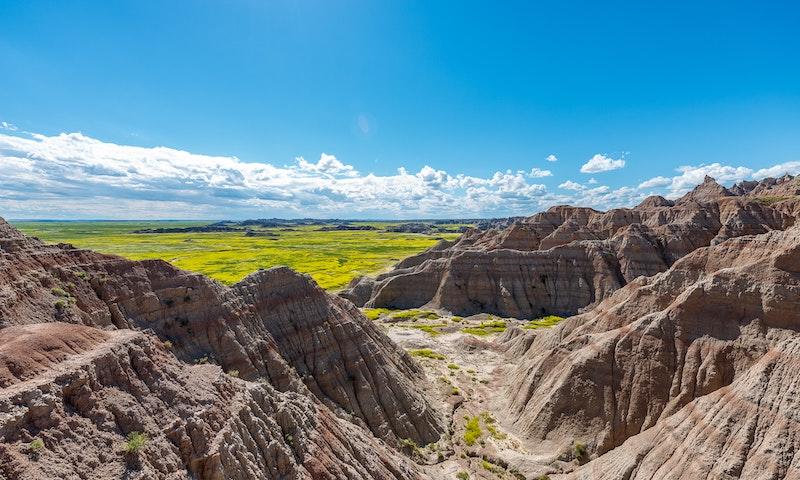 Badlands National Park, USA. Photo by Stephen Walker on Unsplash.
Where was Nomadland Filmed?
Nomadland was filmed in Badlands National Park, Custer State Park, Desert Rose RV Park, Fernley, Hadlock's Shady Spot RV Park, Midwest Theater, Quartzsite Yacht Club Restaurant Bar, Scenic, Scottsbluff, T-Rocks, Wall and Wall Drug Store.
The complete list of the locations with latitude and longitude coordinates are listed below in the table.
Nomadland Locations Map
Nomadland Locations Table
| Location Name | Latitude | Longitude |
| --- | --- | --- |
| Badlands National Park | 43.860779 | -102.353638 |
| Custer State Park | 43.756382 | -103.387901 |
| Desert Rose RV Park | 39.592411 | -119.156166 |
| Fernley | 39.569561 | -119.232895 |
| Hadlock's Shady Spot RV Park | 33.660934 | -114.226532 |
| Midwest Theater | 41.863621 | -103.662613 |
| Quartzsite Yacht Club Restaurant Bar | 33.662933 | -114.234978 |
| Scenic | 43.779564 | -102.554871 |
| Scottsbluff | 41.867916 | -103.672058 |
| T-Rocks | 33.662071 | -114.242134 |
| Wall | 43.990875 | -102.240036 |
| Wall Drug Store | 43.992767 | -102.241730 |
Related Movies