Thelma & Louise Locations
Thelma & Louise is an American adventure, crime, drama movie written by Callie Khouri, directed by Ridley Scott, and produced by Ridley Scott and Mimi Polk Gitlin. Starring Susan Sarandon, Geena Davis, Harvey Keitel, Michael Madsen, Christopher McDonald, and Brad Pitt, the film premiered at Cannes on May 20, 1991, was released on May 24, 1991 (United States). The film was selected for preservation in the National Film Registry by the United States Library of Congress, and won the 1991 Academy Awards for "Best Writing, Screenplay Written Directly for the Screen". Thelma & Louise was mostly shot around Bakersfield, California and Moab, Utah.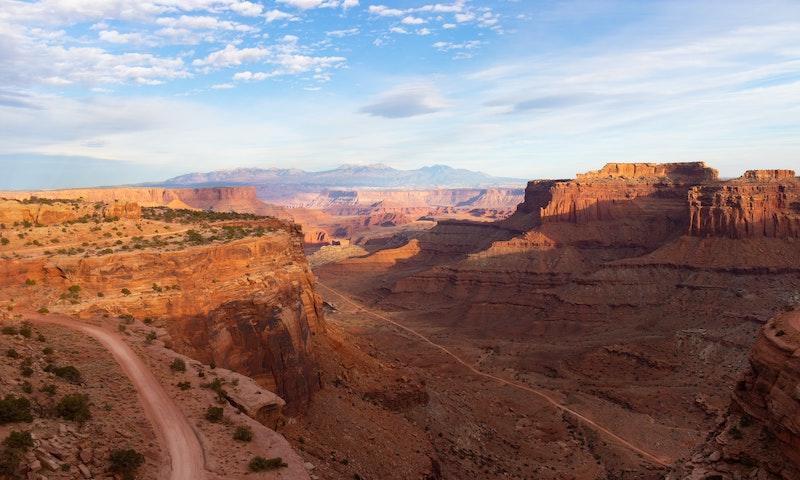 Canyonlands National Park. Photo by Christoph Von Gellhorn on Unsplash.
Where was Thelma & Louise Filmed?
Thelma & Louise was filmed in Arches National Park, Bakersfield, Bedrock, Canyonlands National Park, Cisco, Courthouse Towers, Dead Horse Point State Park, Derby Acres, Gorman, La Sal Mountains, Moab, Shafter, Silver Bullet Saloon (Now Cowboy Country), Studio 6 Gorman - Lebec, Taft, Tarzana, Thompson Springs, Vagabond Inn, Valley of the Gods and West Valley City.
The complete list of the locations with latitude and longitude coordinates are listed below in the table.
Thelma & Louise Locations Map
Thelma & Louise Locations Table
| Location Name | Latitude | Longitude |
| --- | --- | --- |
| Arches National Park | 38.730778 | -109.597298 |
| Bakersfield | 35.370392 | -119.047615 |
| Bedrock | 38.314941 | -108.892029 |
| Canyonlands National Park | 38.325191 | -109.882500 |
| Cisco | 38.969852 | -109.322945 |
| Courthouse Towers | 38.637161 | -109.600098 |
| Dead Horse Point State Park | 38.474800 | -109.740692 |
| Derby Acres | 35.247639 | -119.597748 |
| Gorman | 34.796284 | -118.853943 |
| La Sal Mountains | 38.448174 | -109.243622 |
| Moab | 38.573063 | -109.555344 |
| Shafter | 35.496140 | -119.278404 |
| Silver Bullet Saloon (Now Cowboy Country) | 33.860867 | -118.152336 |
| Studio 6 Gorman - Lebec | 34.795963 | -118.851868 |
| Taft | 35.141853 | -119.460487 |
| Tarzana | 34.149784 | -118.555763 |
| Thompson Springs | 38.971020 | -109.715393 |
| Vagabond Inn | 34.024120 | -118.278954 |
| Valley of the Gods | 37.266956 | -109.834190 |
| West Valley City | 40.688866 | -112.009087 |
Related Movies