The Road Locations
The Road is an American post-apocalyptic survival drama movie directed by John Hillcoat, written by Joe Penhall, and based on the novel of the same title by Cormac McCarthy. Starring Viggo Mortensen, Robert Duvall, Kodi Smit-McPhee, Guy Pearce, Molly Parker, and Charlize Theron, it follows a father and his son in a post-apocalyptic wasteland. The film was released on November 25, 2009 (United States), received good reviews and nominated for a BAFTA Film Award for Best Cinematography. The Road was shot in different parts of Pennsylvania, USA. Filming locations included Raccoon Creek State Park, Fort Stevens State Park, Presque Isle State Park, Rubles Run Bridge, and Abandoned Turnpike Tunnels.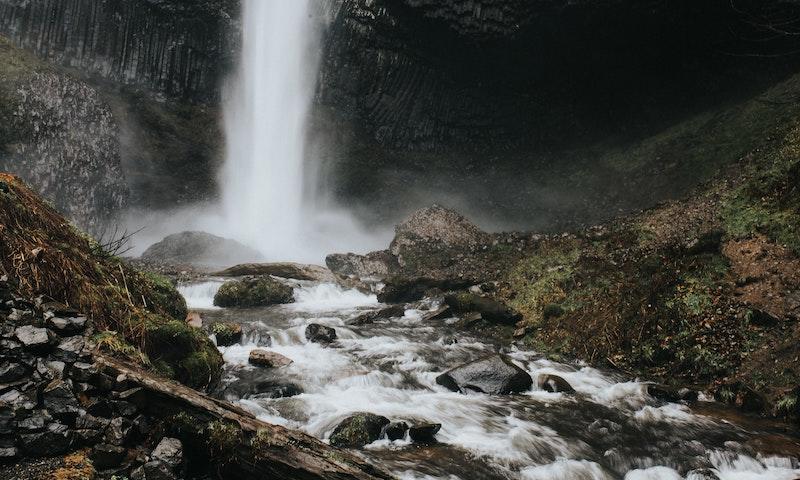 Latourell Falls. Photo by Cole Keister on Unsplash.
Where was The Road Filmed?
The Road was filmed in Abandoned Pennsylvania Turnpike, Braddock, Breezewood, Conneaut Lake, Conneaut Lake Park, Erie, Fort Stevens State Park, Hanover Township, Harmony, Horsetail Falls, Latourell Falls, Los Angeles, Mount St. Helens, Nemacolin, New Galilee, New Orleans, Pittsburgh, Presque Isle State Park and Raccoon Creek State Park.
The complete list of the locations with latitude and longitude coordinates are listed below in the table.
The Road Locations Map
The Road Locations Table
| Location Name | Latitude | Longitude |
| --- | --- | --- |
| Abandoned Pennsylvania Turnpike | 39.999962 | -78.228050 |
| Braddock | 40.402592 | -79.871002 |
| Breezewood | 39.998737 | -78.240509 |
| Conneaut Lake | 41.603218 | -80.306725 |
| Conneaut Lake Park | 41.635666 | -80.316650 |
| Erie | 42.118065 | -80.092682 |
| Fort Stevens State Park | 46.198170 | -123.979851 |
| Hanover Township | 41.212418 | -75.952232 |
| Harmony | 40.801086 | -80.128044 |
| Horsetail Falls | 45.589626 | -122.068741 |
| Latourell Falls | 45.536953 | -122.217827 |
| Los Angeles | 34.061230 | -118.264961 |
| Mount St. Helens | 46.191372 | -122.195572 |
| Nemacolin | 39.878803 | -79.929077 |
| New Galilee | 40.833981 | -80.401443 |
| New Orleans | 29.958630 | -90.092064 |
| Pittsburgh | 40.439838 | -80.004593 |
| Presque Isle State Park | 42.117691 | -80.152946 |
| Raccoon Creek State Park | 40.503387 | -80.424789 |
Related Movies