Top Gun: Maverick Locations
Top Gun: Maverick is an American action drama movie directed by Joseph Kosinski, written by Ehren Kruger, Eric Warren Singer, and McQuarrie. The film stars Cruise, Miles Teller, Val Kilmer, Jennifer Connelly, Jon Hamm, Ed Harris, Glen Powell, and Lewis Pullman. It is the sequel to Top Gun (1986) and premiered at CinemaCon on April 28, 2022, was released on May 27, 2022, in the USA, and grossed $1.489 billion worldwide. The film became the second-highest-grossing film of the year and received an Academy Award for "Best Sound". It follows the story of Pete "Maverick" Mitchell after he serves as one of the Navy's top aviators for more than thirty years. Top Gun: Maverick was shot in San Diego, California, USA. Filming locations included NAS Whidbey Island and USS Theodore Roosevelt. Flight deck operations scenes were filmed on USS Abraham Lincoln.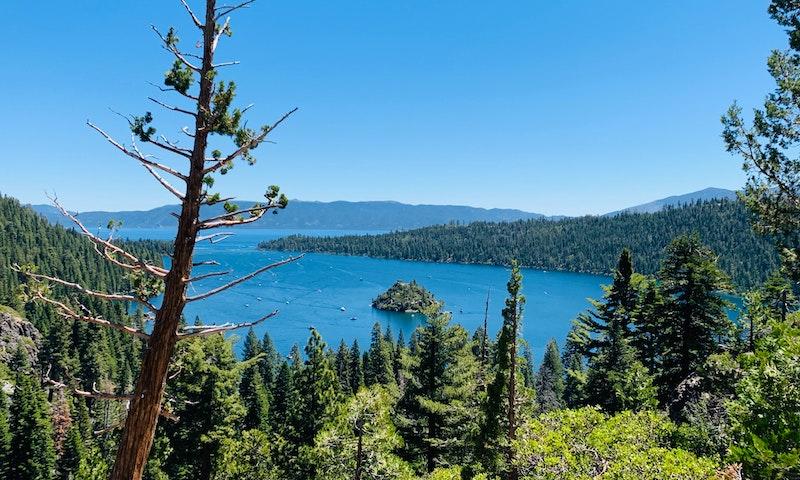 South Lake Tahoe. Photo by Jan Sarmiento on Unsplash.
Where was Top Gun: Maverick Filmed?
Top Gun: Maverick was filmed in 4000 Bluff Pl (Penny's house), China Lake, Eldorado National Forest, Fort Rosecrans National Cemetary, Inyokern Airport, Lake Tahoe Airport, Lake Tahoe Basin Management Unit, Lemoore, Los Angeles, NAS Whidbey Island, Naval Air Station Fallon, Naval Air Station Lemoore, Naval Air Station Whidbey Island, North Island Naval Air Station, Patuxent River, San Diego, Seattle and South Lake Tahoe.
The complete list of the locations with latitude and longitude coordinates are listed below in the table.
Top Gun: Maverick Locations Map
Top Gun: Maverick Locations Table
| Location Name | Latitude | Longitude |
| --- | --- | --- |
| 4000 Bluff Pl (Penny's house) | 33.707767 | -118.286263 |
| China Lake | 35.651119 | -117.666748 |
| Eldorado National Forest | 38.750214 | -120.334755 |
| Fort Rosecrans National Cemetary | 32.688759 | -117.245743 |
| Inyokern Airport | 35.652554 | -117.827393 |
| Lake Tahoe Airport | 38.892509 | -119.998123 |
| Lake Tahoe Basin Management Unit | 38.932606 | -119.973320 |
| Lemoore | 36.300632 | -119.785080 |
| Los Angeles | 34.052898 | -118.256912 |
| NAS Whidbey Island | 48.284660 | -122.628860 |
| Naval Air Station Fallon | 39.420464 | -118.724266 |
| Naval Air Station Lemoore | 36.260567 | -119.911049 |
| Naval Air Station Whidbey Island | 48.341076 | -122.672348 |
| North Island Naval Air Station | 32.697758 | -117.204529 |
| Patuxent River | 38.276909 | -76.425674 |
| San Diego | 32.718227 | -117.169853 |
| Seattle | 47.606033 | -122.339119 |
| South Lake Tahoe | 38.940067 | -119.980309 |
Related Movies