The Pianist Locations
The Pianist is a biographical war drama film produced and directed by Roman Polanski, written by Ronald Harwood, based on the autobiographical book of the same name by the Polish-Jewish pianist and composer Władysław Szpilman. Starring Adrien Brody, Thomas Kretschmann, Frank Finlay, Emilia Fox, Ed Stoppard, Michal Zebrowski, Maureen Lipman, Jessica Kate Meyer, and Julia Rayner, the film premiered at Cannes in 2002, won the Palme d'Or, and 3 Oscars for Best Director (Roman Polanski), Best Adapted Screenplay (Ronald Harwood), and Best Actor (Adrien Brody). The Pianist was mostly filmed in Warsaw, Mazowieckie, Poland. Mała Street in Warsaw's Praga-Północ, Babelsberg Studio in Potsdam, Germany, the National Defence University of Warsaw, and Hotel Saski were among the filming locations.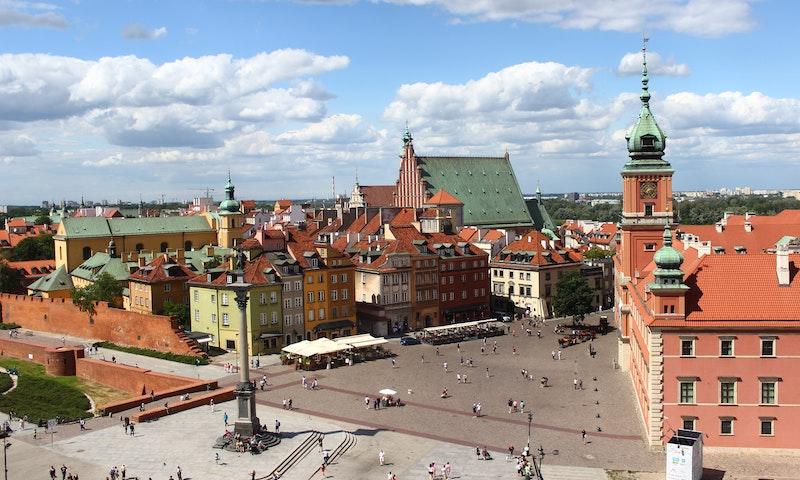 Warsaw, Poland. Photo by Lasma Artmane on Unsplash.
Where was The Pianist Filmed?
The Pianist was filmed in Babelsberg, Beelitz, Hotel Saski, Instalatorów, Jüterbog, Kobylka, Konopacka, Kozia, Krakowskie Przedmiescie, Mala, Norblin Factory, Potsdam, Rembertów, Stalowa, Studio Babelsberg, Warsaw and Zabkowska.
The complete list of the locations with latitude and longitude coordinates are listed below in the table.
The Pianist Locations Map
The Pianist Locations Table
| Location Name | Latitude | Longitude |
| --- | --- | --- |
| Babelsberg | 52.391479 | 13.112170 |
| Beelitz | 52.235298 | 12.978450 |
| Hotel Saski | 52.241932 | 21.003090 |
| Instalatorów | 52.199097 | 20.954014 |
| Jüterbog | 51.991001 | 13.072000 |
| Kobylka | 52.340858 | 21.194670 |
| Konopacka | 52.259392 | 21.038900 |
| Kozia | 52.244431 | 21.011950 |
| Krakowskie Przedmiescie | 52.242538 | 21.015100 |
| Mala | 52.258320 | 21.037590 |
| Norblin Factory | 52.180206 | 21.000591 |
| Potsdam | 52.396149 | 13.058540 |
| Rembertów | 52.260620 | 21.165001 |
| Stalowa | 52.261391 | 21.043909 |
| Studio Babelsberg | 52.386982 | 13.120176 |
| Warsaw | 52.234982 | 21.008490 |
| Zabkowska | 52.254238 | 21.043409 |
Related Movies