Black Panther Locations
Black Panther is an American superhero action-adventure sci-fi film based on the Marvel Comics character of the same name. The film is directed by Ryan Coogler, written by Ryan Coogler and Joe Robert Cole, produced by Marvel Studios, and distributed by Walt Disney Studios Motion Pictures. Starring Chadwick Boseman, Michael B. Jordan, Lupita Nyong'o, Danai Gurira, and Martin Freeman, it is the eighteenth film in the Marvel Cinematic Universe (MCU). It was released on February 16, 2018 (United States), earned $1.347 billion worldwide, and won 3 Oscars. Black Panther is one of the highest-grossing films of all time. Filming took place at EUE/Screen Gems Studios in the Atlanta metropolitan area, in the Sweet Auburn neighborhood in Atlanta, the High Museum of Art, and Atlanta City Hall. It was also shot at Gwangalli Beach and at the Gwangandaegyo Bridge in Busan, South Korea; Marine City in the Haeundae District. Additional filming took place at the Rwenzori Mountains and Bwindi Impenetrable National Park in Uganda.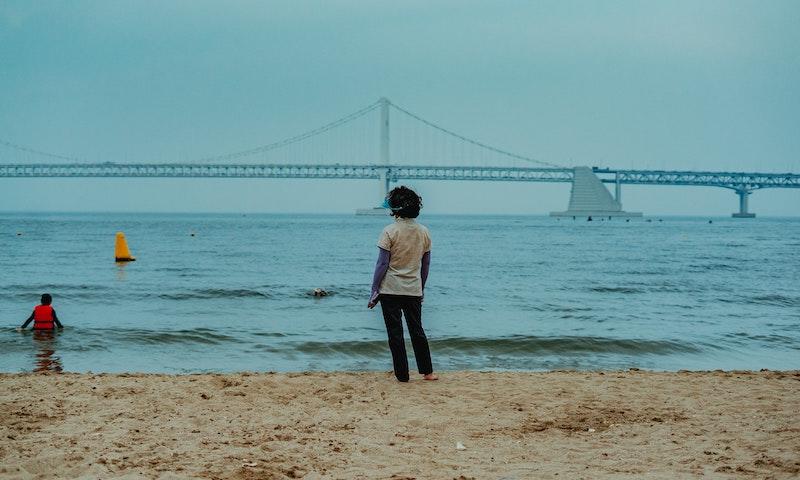 Gwangalli Beach. Photo by Daniel Bernard on Unsplash.
Where was Black Panther Filmed?
Black Panther was filmed in Atlanta, Bwindi Impenetrable National Park, Dongseo University (동서대학교), EUE Screen Gems Studios, Gwangalli Beach (광안리해수욕장), Gwangan Bridge (광안대교), Haeundae Marine City, High Museum of Art, Iguazu Falls (Las Cataratas del Iguazú), Jagalchi Market (자갈치시장), Namhang Bridge (남항대교), Pinewood Atlanta Studios, Rwenzori Mountains, Sajik Baseball Stadium (사직야구장) and Sweet Auburn.
The complete list of the locations with latitude and longitude coordinates are listed below in the table.
Black Panther Locations Map
Black Panther Locations Table
| Location Name | Latitude | Longitude |
| --- | --- | --- |
| Atlanta | 33.748997 | -84.387985 |
| Bwindi Impenetrable National Park | -1.033705 | 29.693104 |
| Dongseo University (동서대학교) | 35.143936 | 129.010376 |
| EUE Screen Gems Studios | 33.701626 | -84.396797 |
| Gwangalli Beach (광안리해수욕장) | 35.152916 | 129.118271 |
| Gwangan Bridge (광안대교) | 35.147648 | 129.129837 |
| Haeundae Marine City | 35.156002 | 129.144608 |
| High Museum of Art | 33.789696 | -84.388130 |
| Iguazu Falls (Las Cataratas del Iguazú) | -25.695276 | -54.436718 |
| Jagalchi Market (자갈치시장) | 35.096695 | 129.030350 |
| Namhang Bridge (남항대교) | 35.080360 | 129.032013 |
| Pinewood Atlanta Studios | 33.474388 | -84.510651 |
| Rwenzori Mountains | 0.385786 | 29.871210 |
| Sajik Baseball Stadium (사직야구장) | 35.194653 | 129.061188 |
| Sweet Auburn | 33.754826 | -84.377449 |
Related Movies