Argo Locations
Argo is an American biographical thriller drama film directed by Ben Affleck, written by Chris Terrio, and based on the book "The Master of Disguise" by Tony Mendez, and the Wired Magazine article "The Great Escape" by Joshuah Bearman. Starring Affleck, Bryan Cranston, John Goodman, Alan Arkin, Victor Garber, Tate Donovan, Clea DuVall, and Scoot McNairy, the film was released on October 12, 2012, in the United States, grossed $232.3 million, and won three Oscars including "Best Motion Picture of the Year". Argo was shot in Istanbul, Turkey and Los Angeles, California, USA. Filming locations included Hagia Sophia and Blue Mosque in Istanbul, Veterans Hospital in LA, Ontario International Airport in California.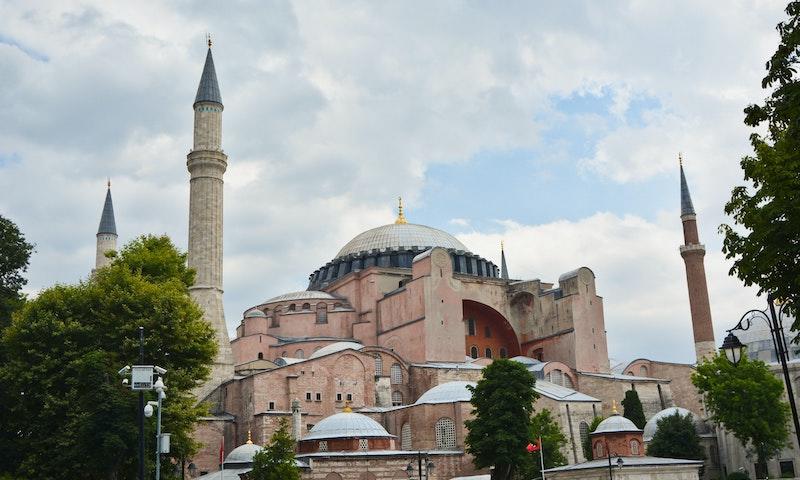 Hagia Sophia, Istanbul. Photo by Rashid Grey on Unsplash.
Where was Argo Filmed?
Argo was filmed in 1001 Bel Air Rd (Lester Siegel's House), Beverly Hills, Blue Mosque, Bosphorus, Hagia Sophia, Istanbul, Los Angeles, McLean, Ontario International Airport, Smoke House Restaurant, Veterans Hospital, Warner Bros. Studio, Washington and Yeni Camii.
The complete list of the locations with latitude and longitude coordinates are listed below in the table.
Argo Locations Map
Argo Locations Table
| Location Name | Latitude | Longitude |
| --- | --- | --- |
| 1001 Bel Air Rd (Lester Siegel's House) | 34.093025 | -118.444191 |
| Beverly Hills | 34.080021 | -118.401382 |
| Blue Mosque | 41.005352 | 28.976797 |
| Bosphorus | 41.127998 | 29.065056 |
| Hagia Sophia | 41.008564 | 28.980143 |
| Istanbul | 41.072025 | 28.967649 |
| Los Angeles | 34.051411 | -118.257294 |
| McLean | 38.933311 | -77.180084 |
| Ontario International Airport | 34.056110 | -117.598618 |
| Smoke House Restaurant | 34.145512 | -118.341415 |
| Veterans Hospital | 34.244335 | -118.482094 |
| Warner Bros. Studio | 34.148182 | -118.337997 |
| Washington | 38.902214 | -77.044838 |
| Yeni Camii | 41.016930 | 28.971931 |
Related Movies